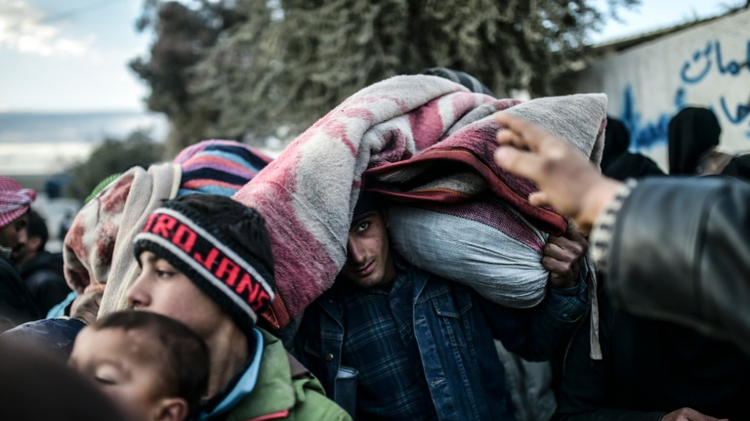 ☆
Syrian army advances towards Turkish border: monitor
credits/photos : Bulent Kilic (AFP)
A man carrying belongings on his head looks on as Syrians fleeing the northern embattled city of Aleppo wait on February 5, 2016 in Bab-Al Salama, near Turkish crossing gate
Tens of thousands of people have fled fierce fighting as government forces advanced this week against rebels
Syrian government troops advanced Sunday toward a rebel town near the Turkish border as they pressed a Russian-backed offensive that has prompted tens of thousands to flee, a monitor said.
The town of Tal Rifaat is around 20 kilometres (12.5 miles) from the Turkish frontier, where Syrians who have fled fighting near Aleppo city have been gathering since the assault was launched Monday.
It is one of the last rebel strongholds in the north of Aleppo province and government troops are just seven kilometres away, according to the British-based Syrian Observatory for Human Rights.
Observatory chief Rami Abdel Rahman said regime troops want to push north to the border with Turkey to prevent rebels and weapons from entering Syrian territory.
Syrian pro-government newspaper Al-Watan said Sunday that Tal Rifaat would be a major prize for the regime.
"If it falls, the army will be able to progress and seize control of all of the northern part of province," the paper said.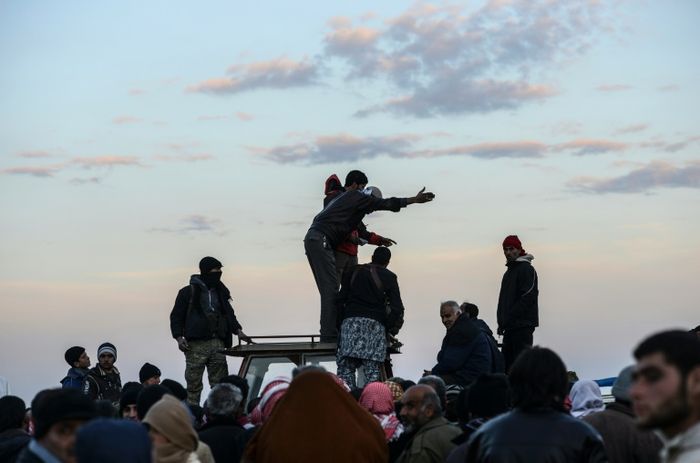 Regime forces backed by intense Russian air strikes have closed in on Aleppo city in their most significant advance since Moscow intervened in September in support of President Bashar al-Assad's government.
Syria's mainstream rebels are now threatened with collapse after the regime severed their main supply line to Aleppo city.
Opposition forces along with roughly 350,000 civilians are in rebel-held areas of the divided city of Aleppo and face the risk of a government siege.
Punitive blockades have been employed elsewhere in the nearly five-year civil war, causing dire humanitarian situations including starvation.
Since Saturday night government forces have surrounded the rebel bastion of Daraya in Damascus province.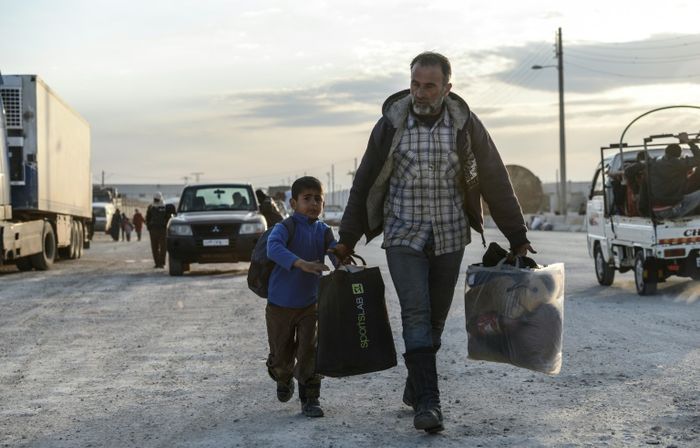 - Turkey will not 'abandon Syrian refugees to death': deputy PM -
Turkey will continue to let in Syrian refugees instead of "abandoning them to their deaths", the country's deputy premier said Sunday, as thousands of Syrians were trapped on its border after fleeing a regime assault.
"Turkey has reached the limit of its capacity to absorb the refugees," Deputy Prime Minister Numan Kurtulmus told CNN Turk television.
"But in the end, these people have nowhere else to go. Either they will die beneath the bombings... or we will open our borders."
"We are not in a position to tell them not to come. If we do, we would be abandoning them to their deaths."
Tens of thousands of Syrians, mostly women and children, have fled toward the Turkish border since Friday from the northern Syrian city of Aleppo to escape a regime offensive backed by Russian air strikes.
President Recep Tayyip Erdogan on Saturday said Turkey was ready to open its gates to Syrian refugees "if necessary."
"If they reached our door and have no other choice, if necessary, we have to and will let our brothers in," he told reporters on his plane returning from Senegal on Saturday, quoted by Anatolia news agency.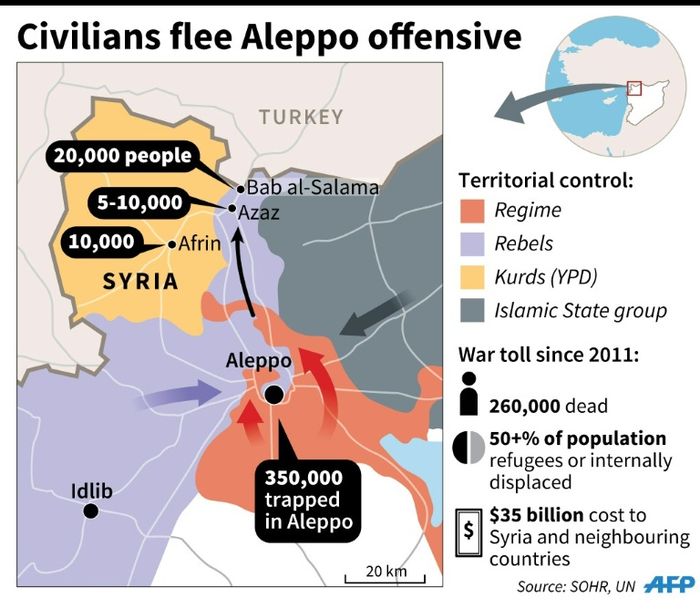 The governor of Turkey's Kilis border province, Suleyman Tapsiz, said Saturday that Turkey -- already home to around 2.7 million Syrians according to the latest government figures -- was taking care of 30-35,000 refugees who had gathered around the nearby Syrian city of Azaz in the space of 48 hours.
Turkey's Oncupinar border crossing, which faces Bab al-Salama inside Syria, remained closed to thousands of refugees gathered there for a third day, an AFP reporter said.
They braved cold and rain as Turkish aid trucks delivered food inside Syria.
"(...) The border remains open for emergency situations," a Turkish official told AFP, adding that since Friday, eight injured people had been admitted to Turkey for treatment at Turkish hospitals.
Turkish Foreign Minister Mevlut Cavusoglu said Saturday his country would keep its "open border policy" for Syrian refugees.
The European Union on Saturday said it was Ankara's international obligations to keep its frontiers open to refugees while pressing the Turkish government to help stem the flow of migrants to Europe.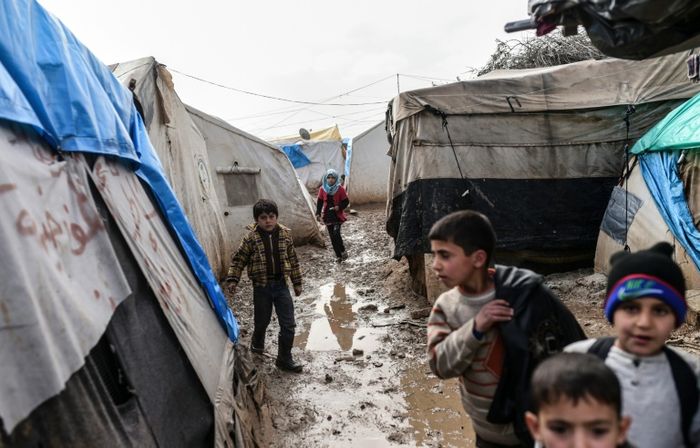 - 'Invader' -
Erdogan again dismissed Russia's claims that Turkey was actively preparing to invade Syria, saying Moscow itself was an "invader."
He also argued that Moscow and President Bashar al-Assad were together responsible for the deaths of thousands of civilians in the Syrian civil war.
"We should ask Russia: What are you doing in Syria? Basically you are an invader," he said on the plane.
"You are cooperating with a person (Assad) who is waging a state terrorism. You are cooperating with someone who has killed 400,000 people, and continuing to kill civilians."
Ties between Moscow, which supports the regime of Assad, and Ankara, which is a staunch backer of the opposition, have been in tatters since Turkey shot down a Russian warplane on the Syrian border in November, claiming it had entered Turkish airspace.
Following a request from Assad, Moscow launched a bombing campaign in Syria in September, saying it needed to target jihadists like the Islamic State group before they cross into Russia. But air strikes have also hit the rebels opposed to Assad.
Erdogan said his country would do "whatever necessary" in the face of a threat, saying: "Right now we, our security forces, are prepared for any eventuality."
"Fear not."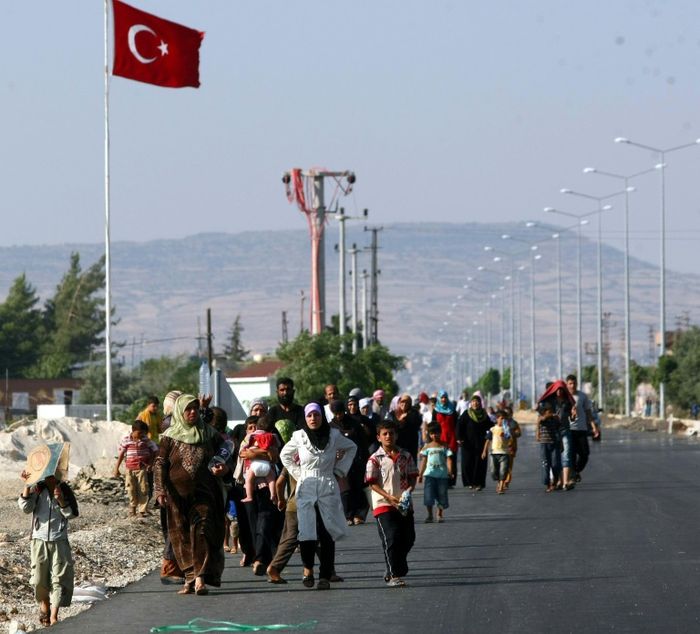 (AFP)
See more: Fleeing Aleppo, thousands brave freeze at Turkey border