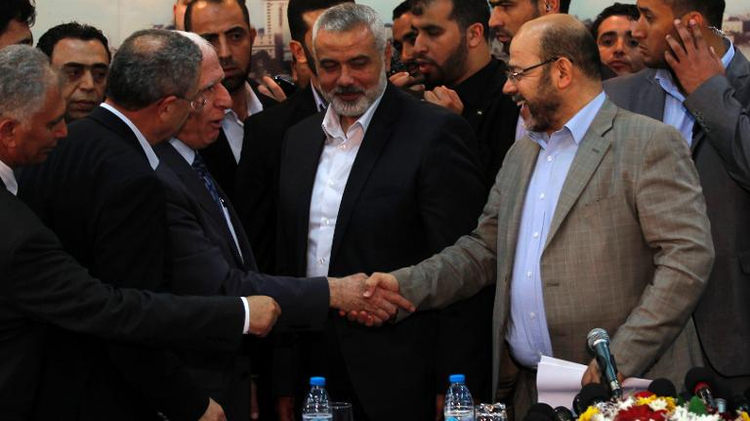 ☆
Exclusive: Draft submitted by Fatah to Hamas outlines vision of reconciliation
credits/photos : Said Khatib (AFP)
Palestinian Fatah envoy Azzam al-Ahmed (left) shakes hands with Hamas deputy leader Musa Abu Marzuk (right) in the presence of Hamas prime minister Ismail Haniya (centre) after signing a reconciliation agreement in Gaza City, on April 23, 2014
Delegates from rival Palestinian factions meet in Doha to discuss possibility of unity government talks
Reconciliation talks between delegates from rival Palestinian factions Hamas and Fatah kicked off in the Qatari capital Doha on Sunday.
This new round of meetings will decide if a meeting between Hamas chief Khalid Meshaal, the Palestinian Authority (PA) and Fatah Chairman Mahmoud Abbas will take place any time in the near future.
I24News obtained a draft document submitted by Fatah outlining its vision for national reconciliation with its rival Hamas.
Included in the draft were a number of items relating to how power would be shared between the two groups if a reconciliation agreement was to be reached.
"Fatah sees that leadership of the PLO and the PA should remain in the hands of Fatah, and that Hamas should take into account the national interest of the Palestinian people," was one of the items included in the draft.
Another item read: "Fatah sees the need to elect the president and the vice president together (when elections take place) in case any harm happens to the president."
"The president has the authority to approve the new national unity government once it is formed and no need to put for approval to the legislative council," was another item included in the draft.
Senior Hamas leader Dr Moussa Abu Marzouk said after the talks that the dialogue session with Fatah was "positive" and will continue Monday. 
A Fatah official told i24News that the meeting with Hamas officials represented a favorable opportunity for the success of reconciliation. 
Palestinian elections have not been held in a decade due to the bitter split between Hamas, which rules the Gaza Strip, and the West Bank-based Fatah faction led by Abbas.
The latest talks in Doha are a fresh attempt to implement a 2014 reconciliation deal which provided for elections by the end of that year.
The elections never materialized, with the two sides blaming each other.
The Palestinian parliament has not met since 2007, the year Hamas seized the Gaza Strip by force and drove out Fatah from the enclave buoyed by its 2006 election victory.
Hamas caused a shock by winning the majority of seats in the polls, which were seen by some as the most transparent to be held in the Palestinian territories.
But the international community refused to accept the results, demanding that Hamas renounces violence, recognizes Israel and respects agreements signed between Palestinian and Israeli leaders.