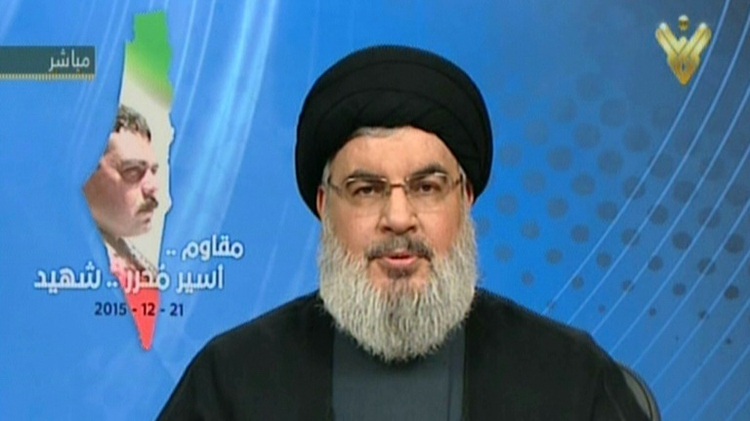 ☆
Hezbollah leader slams Sunni Arab states over reported ties with Israel
credits/photos : Al-Manar TV/AFP
An image grab taken from Hezbollah's al-Manar TV on December 21, 2015 shows Hassan Nasrallah, the head of Lebanon's militant Shiite Muslim movement Hezbollah, giving a televised address from an undisclosed location in Lebanon
Nasrallah warns Hezbollah capable of hitting Israeli ammonia tanks, with nuclear bomb-like destruction
Hezbollah leader Hassan Nasrallah said on Tuesday that the Lebanese militant group does not want a war with Israel, but slammed Sunni Arab states for their reportedly strengthening relations with the Jewish State.
"Do you accept a friend occupying Sunni land in Palestine? Can you become friends with an entity that has committed the most horrible massacres against the Sunni community?" said Nasrallah, according to Lebanon's Naharnet news agency.
"You are free to consider Iran an enemy but how can you consider Israel a friend and an ally? This issue must be confronted in a serious manner," he continued.
"It is beneficial to monitor the Israeli media to realize that the Israeli rhetoric has become identical to the rhetoric reflected in some Arab media, especially in the Gulf and Saudi Arabia," he added.
Nasrallah's remarks come days after Moshe Ya'alon touted Israel's secret ties with Arab states.
"Iran is the bad guy for us and for the Sunni regimes. They are not shaking hands [with Israelis] in public, but we meet in closed rooms," Ya'alon said on Sunday at the global security conference in Munich.
Nasrallah also accused Israel of back-door intervention in Syria, claiming "Israel is coordinating with Saudi Arabia and Turkey."
Nasrallah warned Saudi Arabia not to align itself with Israel in the conflict, vowing that they "won't let Assad fall."
Nasrallah also said that Hezbollah is not interested in a war with Israel, and certainly not in the near future, Israel's Channel 2 news reports.
Nasrallah claimed that Hezbollah was capable of defeating Israel in war, which, he says, Israel knows and therefore does not initiate a battle with the Lebanese group.
Nasrallah quoted an unnamed Israeli official who he suggests has more-or-less said that if Hezbollah were to strike one of Israel's ammonia facilities in the northern port city of Haifa, the impact would be catastrophic, like a nuclear bomb, resulting in tens of thousands of Israeli casualties.
"I can hit the ammonia facilities," Nasrallah warns, in statements addressed specifically to Israel's chief of staff Gadi Eisenkot, adding that he refrained from targeting such facilities in Israel's 2006 war with Hezbollah.
(Staff with agencies)