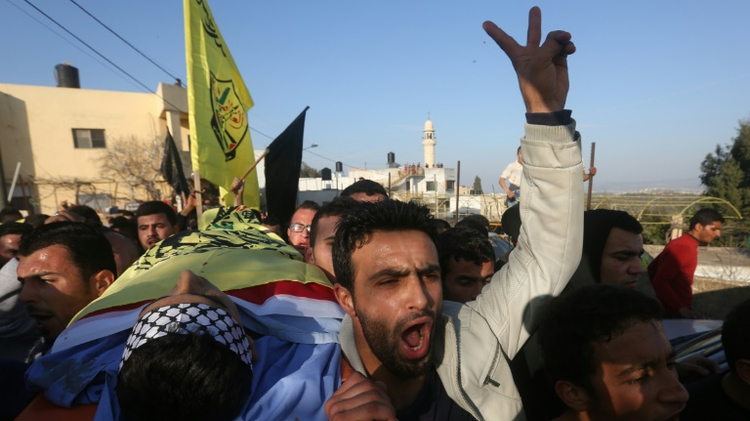 ☆
Iran to pay families of Palestinian attackers
credits/photos : Jaafar Ashtiyeh (AFP)
Palestinians mourners carry the bodies of teenagers Nihad Waked and Fuad Waked after they were shot dead by Israeli security forces as they reportedly fired on Israeli soldiers on February 14, 2016 during their funeral in the village of Araka
Families of attackers who were killed will receive $7,000; those whose houses were destroyed will get $30,000
Iran has announced that it will be paying every family of a Palestinian attacker that has been involved in the current wave of violence, Israeli outlet Reshet Bet reports.
If the attacker was killed the family will receive $7,000 from Iran, with a $30,000 payout if their house was demolished by the Israeli authorities.
The announcement was made by the Iranian ambassador in Lebanon, Mohammed Fatah Ali, according to Reshet Bet.
Iran is designated a state sponsor of terrorism by the US State Department, and uses its support for terrorist organizations to conduct proxy wars, such as its financing and arming of Hezbollah in Syria.
Tehran has also historically been a major funder and weapons provider for Hamas, although a senior official in the Gaza-based group recently slammed Iran for apparently largely ceasing its aid.
Relations between Iran and Hamas have been strained in recent times, with Tehran halting and renewing its aid several times. In May, Iran also ceased funding Islamic Jihad, another terrorist organization in Gaza, with the severing of ties leading the group's Secretary General, Ramadan Shalah, to leave Tehran, where he had holding discussions with the government.
Nonetheless, it was reported in April of this year that Iran transferred tens of millions of dollars to Hamas in Gaza, which the Islamist group put to use rebuilding their tunnel network that had been destroyed during Operation Protective Edge in 2014.