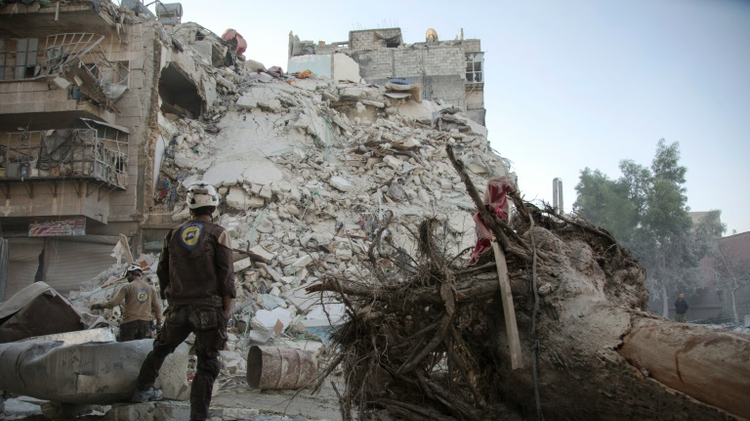 ☆
Russia, Syria halt air strikes on Aleppo: Russian defense minister
credits/photos : Karam Al-Masri (AFP)
A member of the Syrian Civil Defence -- known as the White Helmets -- stands amid the rubble of a destroyed building in Aleppo, on October 17, 2016
Syria conflict could spark world war between Russia and US, Turkey warns
The Russian and Syrian air forces have stopped bombing Aleppo as of 0700 GMT on Tuesday, Russia's defence minister said, in a move he said was meant to pave the way for an eight-hour truce on October 20.
"Strikes in the Aleppo region by the Russian and Syrian air forces are stopping today starting at 10:00 am (local time)," Sergei Shoigu said in a televised briefing.
"The early cessation of air strikes is necessary to introduce a 'humanitarian pause' on October 20. This guarantees the security of civilians' exit through six corridors and prepares the evacuation of the sick and injured from eastern Aleppo."
Russia's defense ministry said Monday that its forces and the Syrian regime would halt fire in Aleppo on Thursday for eight hours amid mounting criticism of the Moscow-backed assault against Syria's second city.
'World war'
Meanwhile Turkey's deputy prime minister said on Tuesday Ankara fears the world will be plunged into a global conflict with superpowers Russia and the US on opposing sides if the proxy war in Syria continues.
"If this proxy war continues, after this, let me be clear, America and Russia will come to a point of war," Numan Kurtulmus said, warning that the Syrian conflict had put the world "on the brink of the beginning of a large regional or global war."
While Turkey and its Western allies call for Syrian President Bashar al-Assad to step down, Moscow is a key backer of the regime in Damascus alongside Iran.
Ankara is part of the US-led coalition targeting the Islamic State group with air strikes but it has also supported Syrian opposition fighters to retake territory from the jihadist group since August 24.
Tensions between Moscow and Washington have surged in the last week as the US pulled the plug on Syria talks and accused Russia of hacking attacks.
US Secretary of State John Kerry last week called for a war crimes investigation after accusing Moscow and the regime of deliberately bombing hospitals as a Russian-backed assault on Aleppo in northern Syria continues.
(Staff with agencies)