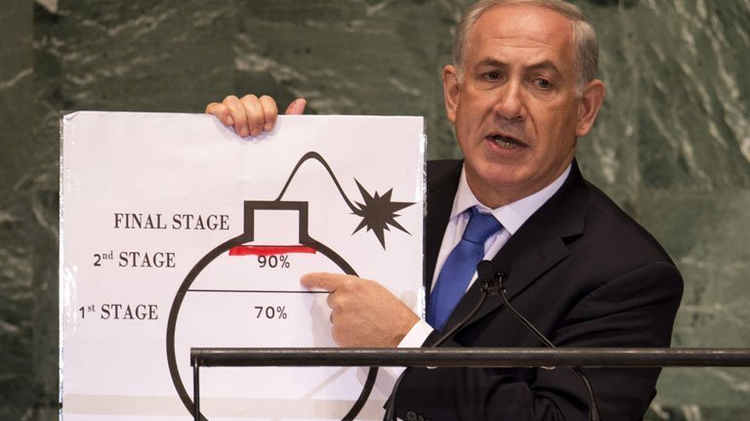 ☆
Netanyahu plans to warn UN against Iran
credits/photos : Don Emmert (AFP/File)
Israeli PM Benjamin Netanyahu describes Iran's alleged nuclear weapon plans at the UN in New York, on September 27, 2012
Will cite North Korea as an example of world being taken in by empty promises
As Iranian President Hassan Rouhani was preparing to address the UN General Assembly Tuesday, Israeli Prime Minister Benjamin Netanyahu was preparing his campaign to warn the world against being taken in by Iran's new, moderate face. Israel Radio reported that Netanyahu's campaign, which he will bring to the General Assembly when he speaks there next week, will argue that Iran's promises regarding its nuclear weapons program cannot be trusted anymore than those made by North Korea to the West.
According to the report, Netanyahu will point out the fact that the United States and its allies conducted talks with North Korea and received promises that it would stop its nuclear weapons development program, only to be confronted earlier this year by a nuclear missile test conducted by the reclusive state.
Netanyahu provided the U.N. with a memorable moment last year when he displayed a cartoon bomb illustrating what he said was Iran's march toward the development of a nuclear weapon. When he addresses the world body next week, he is expected to again call for a hard line to stop Iran's suspect nuclear program, backed by the credible use of force.
But the goalposts have moved a little: Some at the General Assembly's annual meeting will be calling for a more nuanced approach by the world in response to the emergence of a moderate Iranian president offering outreach in place of the saber-rattling and Holocaust denial of his more easily demonized predecessor. The world's focus on Syria's civil war, and the use of chemical weapons there, has further diverted attention from the Iranian nuclear issue.
This changing landscape has put Netanyahu in a difficult position. Convinced the latest signs of moderation by Iran are merely a ploy, the Israeli leader risks finding himself isolated as the international community, including President Barack Obama, tentatively engage the new Iranian president, Hasan Rouhani.
Yuval Steinitz, Israel's minister for intelligence and strategic affairs, confirmed that Israel is alarmed by what he derided as Rouhani's "smiley campaign." He said that despite some friendly gestures, Iran has shown no signs of slowing its efforts to enrich uranium, a key step in the production of nuclear weapons.
"On the one hand, Iran is trying to appease the world with Rouhani's moderate rhetoric. And on the other hand, Iran continues its approach toward nuclear weapons, and if nothing serious will be done, Rouhani will continue to smile, will continue to appease, and he will smile all the way to the bomb," Steinitz told the Associated Press.
Steinitz told Israel's Ynet website that he and Israeli Ambassador to the UN Ron Prosor will not sit in the auditorium during Rouhani's speech Tuesday. Ynet reported that the two officials are now waiting for Netanyahu's instructions on whether to flagrantly leave the hall when the Iranian president begins his speech or just not be in the room to begin with.
In the United States, the pro-Israel Jewish lobby is taking a similar line. In a memo published Monday, the organization warned that "pleasant rhetoric will not suffice. If Iran fails to act, sanctions must be increased. The United States should synchronize its approach to sanctions with Iran's compliance with UN resolutions. If Iran suspends its nuclear activity, the United States should be prepared to suspend any new sanctions. If Iran continues to advance its nuclear program, Washington should step up sanctions."
Obama is also facing pressure to stand firm on Iran from home. Four senators wrote a letter to Obama urging him to reiterate that the US will not accept a nuclear-capable Iran and that crippling economic sanctions on Tehran will continue despite Rouhani's recent overtures to the West. Letters penned by Senators John McCain, Bob Menendez, Lindsey Graham and Chuck Schumer, called on the president to demand action, not words from Iran.
In the same vein, Israel's ​Haaretz rnewspaper reported Tuesday that the heads of the federation of Iranian Jewry in the United States had rejected an invitation to meet with Rouhani during his visit to New York. The leadership was concerned that accepting such an Iranian invitation, conveyed 10 days ago through the Iranian mission to the UN, would be misconstrued as acceptance of Iran's newly stated intentions regarding its nuclear program.
Iran claims its nuclear program is for peaceful purposes. But critics in Israel and the West dismiss such explanations. They point to Iran's refusals to cooperate with U.N. nuclear inspectors, its covert enrichment activities and lack of progress in years of Western on-and-off negotiations with the Iranians.
Israel has long claimed a nuclear-armed Iran would pose a grave threat to world peace and security. For Israel, the stakes are especially high. Israel views a nuclear-armed Iran a threat to its very existence, noting calls by Iranian leaders for destruction of the Jewish state and Tehran's support of Israel's bitterest enemies such as Hezbollah in Lebanon and Palestinian groups Hamas and Islamic Jihad.
Speaking to his Cabinet last week, Netanyahu said he would make Iran the focus of his upcoming trip to the White House and the United Nations. He said he would make four key demands: that Iran stop enriching uranium, remove its existing stockpile of enriched uranium, close an underground enrichment facility in the central city of Qom and halt production of plutonium, another pathway to nuclear weapons.
"Until all four of these measures are achieved, the pressure on Iran must be increased and not relaxed, and certainly not eased," he said.
That does not seem likely as Obama, who has always seemed reluctant to use force against Iran, appears set to give diplomacy another shot.
The White House has cautiously welcomed Rouhani's outreach, raising speculation of a meeting with Obama on the sidelines of the U.N. gathering.
"We have a preference for resolving this issue diplomatically and that we're open to engagement with the Iranian government," Ben Rhodes, Obama's deputy national security adviser, said last week. While calling for a "sense of urgency," Rhodes also said the White House believes there is still time for diplomacy. Rhodes added: "We certainly recognize and appreciate Israel's significant concerns about Iran."
Iran's foreign minister will meet with his counterparts from the U.S., Russia, China, Britain, France and Germany this week to discuss reviving long-stalled negotiations to rein in Iran's nuclear program, European Union foreign policy chief Catherine Ashton said Monday.
Following a meeting with Mohammad Javad Zarif, in New York, Ashton said she saw "energy and determination" for the talks.
"We had a good and constructive discussion," she said. "We didn't talk about the detail of what we would do. The purpose of this meeting was to establish how we would go forward." Ashton said she and her team will meet with Zarif again in October to continue their talks.
(The Associated Press contributed to this story).