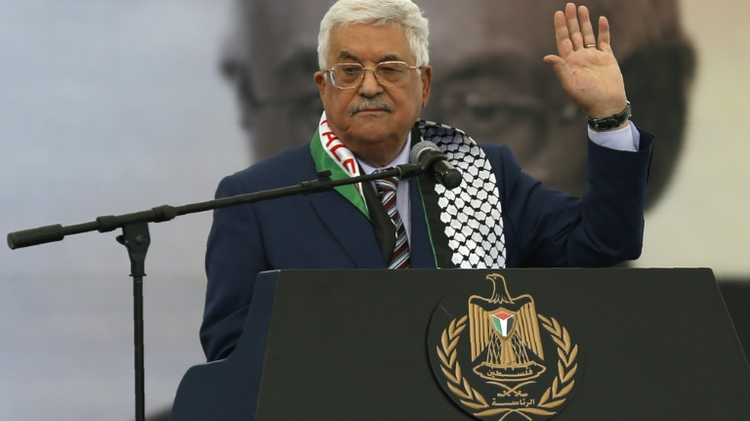 ☆
Abbas unanimously re-elected party chair at Fatah congress
credits/photos : Abbas Momani (AFP)
Palestinian president Mahmud Abbas gives a speech during a rally marking the 12th anniversary of the death of Yasser Arafat in Ramallah on November 10, 2016
This is the Palestinian faction's first congress since 2009
Palestinian Authority President Mahmoud Abbas was unanimously approved for another term as Fatah party chairman at Tuesday's party convention, the Palestinian WAFA news agency reports.
The Palestinian Fatah political faction is holding its seventh party convention with some 1,500 delegates gathering in the Palestinian Authority's administrative center of Ramallah.
According to Reuters, in his opening remarks to the congress, Abbas said "You today, in these historic times, are living the writing of modern history," before hailing the legacy of the party founders and the "martyrs who died along the path towards freedom and independence."
Prior to the conference, questions had been raised about the political future of the party, which 81-year-old Abbas has lead since 2005.
The election of members of Fatah's parliament and its central committee over the five-day conference will signal the direction the oldest Palestinian party will take at a time when Abbas is weakened by his own unpopularity and internal dissent.
While the ageing leader has said he has no intention of stepping aside anytime soon, talk of who will eventually succeed him as Palestinian president has intensified. He has not publicly designated a successor.
Some analysts see the congress as an attempt by Abbas to marginalize political opponents, including longtime rival Mohammed Dahlan.
Supporters of Dahlan, the ousted former member of the executive council who stands as the main rival of Abbas, will not be present – Abbas purged both Dahlan and his followers from the meeting.
Dahlan is now based in the United Arab Emirates and has managed to find support and put pressure on Abbas. But Abbas has managed to weather the challenge despite his unpopularity.
The seventh conference, taking place seven years after the sixth, will include 1,100 delegates – who have spent their entire lives in the Palestinian territories, in contrast with previous conferences, according to the Al-Araby al-Jadeed newspaper.
Reuters reports that 2,500 delegates attended the 2009 congress.
Meanwhile, Israel has been preventing dozens of delegates from leaving Gaza to attend the conference, the Times of Israel quoted a PA spokesman as saying.
Only 250 of the 280 Fatah members who are supposed to come from Gaza had arrived by Monday, according to the spokesman.
The highlight of the congress, set to run for at least five days, will be the announcement of candidates for the 120-member Revolutionary Council. The congress will also name candidates for the party's Central Committee.
Read more: Analysis: Ahead of Fatah primaries, apprehension in Ramallah