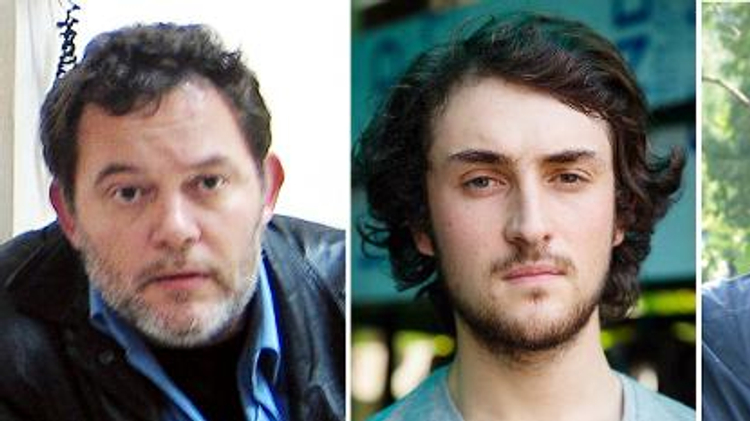 ☆
France reportedly paid $18 million ransom for Syria hostages
credits/photos : Haytham/Torres Family/Benoit Schaeffer/AFP
This combination shows the four French journalists (left to right) Didier Francois, Edouard Elias, Pierre Torres and Nicolas Henin who have been freed after being held captive for almost a year in Syria
German weekly says French FM carried ransom money to Ankara; Paris denies the report
The French government has paid a ransom to the tune of $18 million to Syrian jihadists for the four French journalists who were released last week, the German weekly Focus reported Saturday. However, Paris has categorically denied the report.
Citing a Brussels source "close to high-ranking NATO officials," Focus reported that the French Defense Minister Jean-Yves Le Drian carried the ransom money to Ankara, transferring it to the kidnappers with the help of Turkish secret services.
According to the source, the French intelligence services were reliably informed about the exact whereabouts of the hostages shortly after the abduction 10 months ago, yet ruled out a rescue operation due to the civil war raging in Syria.
Speaking to AFP, France's Defense Ministry rejected the report as false.
The journalists were hostage in Syria last year and freed last Saturday after a 10-month ordeal in the world's most dangerous country for the media.
Turkish soldiers found the four men abandoned in no-man's land on the border with Syria overnight, wearing blindfolds and with their hands bound, the Turkish news agency Dogan reported.
They had been captured in two separate incidents in June last year while covering the conflict in Syria.
Footage of the journalists broadcast on Turkish television showed them looking unkempt, with beards and long hair, but they appeared to be in good health.
"I'm very happy to be free," said 53-year-old Francois. "We thank the Turkish authorities because they really helped us. And it's very nice to see the sky, to be able to walk and to be able to speak freely."
The Turkish soldiers initially took them for smugglers but took them to a police station in the small town of Akcakle near the border when they realized they were speaking French.
Around 30 foreign journalists covering the Syrian civil war have been seized since the conflict began in March 2011, and many are still missing.
Hollande told AFP he had learnt of the liberation of the four Frenchmen "with immense relief."
"I share the joy of the families of our compatriots who have endured... the fear of this trying time," Hollande said.
Francois, a highly respected and experienced war reporter for Europe 1 radio, and photographer Elias, 23, were taken north of the main northern Syrian city of Aleppo on June 6.
Henin, a 37-year-old reporter for Point magazine, and freelance photographer Torres, 29, were seized two weeks later also in the north of the country, at Raqqa.
(With AFP)