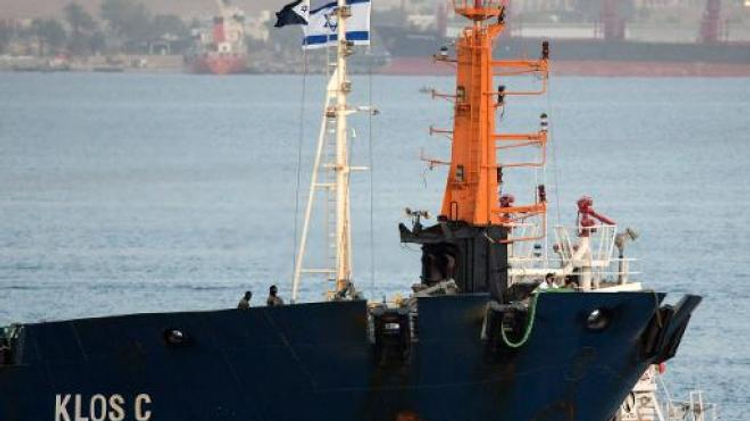 ☆
Alleged Sudanese spy commits suicide
Klos C vessel intercepted by Israel en route from Iran to Sudan in March 2014
The man, arrested in March on suspicion of spying for Israel, reportedly hanged himself in his jail cell
A man accused in Sudan of spying for Israel has committed suicide by hanging himself in his prison cell, Sudanese media reported.
The man was arrested in March by Sudan's National Intelligence and Security Services (NISS). At the time, the pro-government Al-Intibaha daily newspaper in Khartoum quoted a reliable source as saying that Sudan's security agencies had been "monitoring Israel's espionage activities for a long time, particularly among Sudanese citizens who fled to Israel since 2002 and returned through South Sudan and other neighboring countries."
Al-Intibaha said that the unidentified spy provided information that helped Israel carry out several operations, including ones in April 2011 and May 2012 in the Red Sea coastal city of Port Sudan, which are believed to have targeted individuals involved in arms smuggling.
The Israeli daily Haaretz, citing local reports in Sudan, said Sudanese agents provided Israel with information that facilitated a 2009 attack on a weapons convoy and an airstrike on an arms factory in Khartoum in October 2012. The agents reportedly traveled in the past to Israel disguised as migrants.
Some 20,000 Sudanese citizens have crossed into Israel through the Egyptian Sinai Peninsula in the past decade, fleeing persecution in their homeland and dire economic conditions. They enjoy protection in Israel by virtue of a UN-mandated ban on forcing them to return to Sudan. Some left in recent years under a combination of Israeli pressure and financial inducements, including several thousand who returned to South Sudan when it gained independence in 2011.
The Sudan Times, reporting on the arrest, noted that Israeli Defense Forces (IDF) Chief of Staff, Benny Gantz, asserted last week that his country carries out secret operations in other countries. "I did not even mention the dozens of secret activities, some of which took place last week, and [some] just as we speak," he said. "I am talking about close range operations and long-range ones — Iran, and so on. These are not areas that are beyond the IDF's reach."
Israel has accused Sudan of being a hub for Iranian weapons transported to Palestinian Islamist militants in the Gaza strip. In March it intercepted a cargo vessel in the Red Sea, laden with rockets and other weapons, which it said was sent by Iran to Sudan and destined for militants in Egypt's Sinai Peninsula and the Hamas-controlled Gaza Strip.