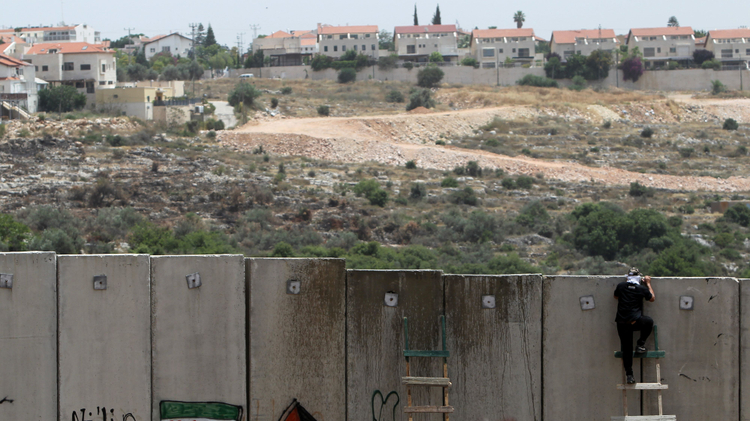 ☆
Portugal warns against business beyond Israel's Green Line
credits/photos : AFP
A Palestinian protester climbs Israel's controversial separation barrier during clashes with Israeli security forces following a demonstration against Israeli settlements and its separation wall, in the West Bank village of Nilin
Portugal joins growing list of EU countries warning citizens against doing business in Israeli settlements
Portugal released a warning on Wednesday for nationals considering doing business with Israeli companies that operate outside of the Green Line.
France, Germany, Britain, and the Netherlands recently issued similar warnings.
"The European Union and its Member States consider that Israeli settlements are illegal under international law, constitute an obstacle to peace and threaten to make a two-state solution to the Israeli-Palestinian conflict impossible," the statement from Portugal read.
It continued by warning specifically against "Financial transactions, investments, purchases, procurements as well as other economic activities (including in services like tourism) in Israeli settlements or benefiting Israeli settlements."
Ten additional European countries are expected to issue similar recommendations by the end of this week.
Portugal's statement, which appeared on the government's website, said to take into account that future tensions or negotiations "could have consequences for property they purchase or economic activities they promote in these settlements."
Sources at the Israeli Foreign Ministry dismissed warnings from Spain and Italy, saying they were legally very "weak." "This is a European trend, which may be unflattering for the settlements, but the warning itself is weak and void of punitive consequences," Israeli news site Ynet reported.
EU ambassador Lars Faaborg-Andersen said the warnings did not come as a surprise. "European countries are losing their patience with the settlements and the expanding construction in the West Bank. If this trend continues, more countries will join the sanctions against businesses operating in the West Bank," the ambassador told reporters during Geneva Initiative seminar in Jerusalem.
In the statement that French Foreign Minister Laurent Fabius published online as part of broader recommendations for travel to Israel, the government warns of traveling in the aforementioned areas, citing them as "occupied territories."
"The West Bank, including East Jerusalem, Gaza and the Golan Heights are Israeli-occupied territories since 1967. The settlements are illegal according to international law," the statement reads in French.
The statement then goes on to warn of the "risks" associated with financial transactions or any form of economic activity in the areas.
"Financial transactions, investments, purchases, sales and other economic activities carried out in the settlements or benefiting the settlements entail legal and economic risks due to the fact that, under international law, Israeli settlements are built on occupied land and are not recognized as Israeli territory," the statement continues.
The announcement also argues that those involved in any of these "risky" activities will likely damage their "reputation" by doing so.
"Citizens and businesses considering engaging in economic or financial activities in the settlements are asked to seek legal counsel before proceeding with these activities," the statement adds, cautioning that these transactions could lead to land disputes and disagreements over "natural resources."