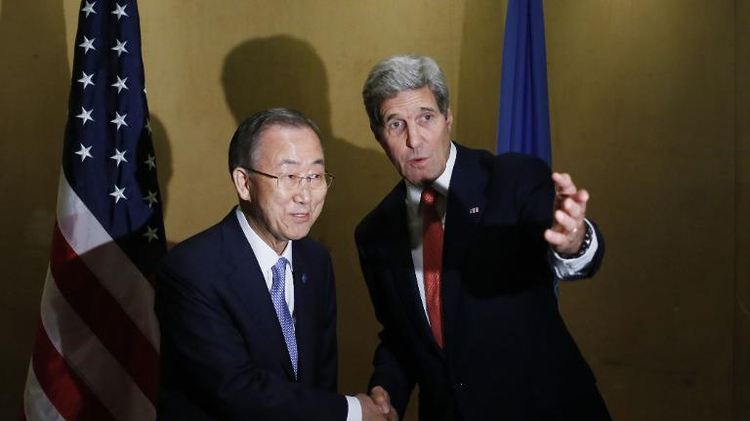 ☆
EU calls on Hamas, other Gaza militants to disarm
credits/photos : Charles Dharapak (Pool/AFP)
Ban Ki-moon et John Kerry le 21 juillet 2014 au Caire
Body also says it is appalled by 'human cost of the Israeli military operation in Shuja'iyya' '
The European Union on Tuesday issued a series of harsh statements against Hamas, saying it "strongly condemns indiscriminate firing of rockets into Israel by Hamas and militant groups in the Gaza Strip, directly harming civilians."
The body went on to brand the rocket attacks at Israel "criminal and unjustifiable acts," adding that it "welcomes" the militant group and all of its Gaza-based peers to disarm. 
"The EU calls on Hamas to immediately put an end to these acts and renounce violence."
"All terrorist groups in Gaza must disarm. The EU strongly condemns calls on the civilian population to provide themselves as human shields."
The EU also said that it is "particularly appalled by the human cost of the Israeli military operation in Shuja'iyya, and is deeply concerned at the rapidly deteriorating humanitarian situation."
Israel's foreign ministry issued a subsequent statement welcoming the tone and the substance of the EU remarks.
"The EU has strengthened its statements on Hamas as a terrorist organization," read the statement, "strongly condemning the indiscriminate firing of rockets at a civilian population, as well as Hamas' use of human shields and describes these acts as crimes."
"These EU remarks are in line with the conception guiding Israel in its war against terror and also open the door for cooperation in implementing these joint principles to restore quiet and security."
Prime Minister Benjamin Netanyahu on Tuesday afternoon compared Hamas to ISIS and al-Qaida and said that the group has "no resolvable grievances."
The remark came during a press conference Tuesday afternoon following a meeting with UN Secretary General Ban Ki-Moon.
At the press conference, Netanyahu said that Hamas is guilty of "starting and prolonging the conflict."
He accused Hamas of the "double war crime" of firing indiscriminately at Israeli civilians as well as using Palestinian civilians as human shields.
"They want more civilian casualties and we want no civilian casualties at all," said Netanyahu, adding that "the people of Gaza are victims of the brutal Hamas regime."
In response, Ban said he strongly condemned "the rocket attacks and the use of civilian sites, schools and hospitals for military purposes."
He said that Israelis and Palestinians need to stop fighting and start talking, and following that they need to address the "root causes of the conflict," including "mutual recognition, occupation, despair, denial of dignity."
These issues need to be addressed," Ban said, "so that people don't feel they need to resort to violence."
There is no viable alternative to the two state solution," Ban further added.
In response to Ban's remarks, Netanyahu said that Hamas is part of a regional development of extremist Islamist groups like ISIS and al-Qaida.
`They defy modernity and reject pluralism. They have no resolvable grievances."
US Secretary of State John Kerry on Tuesday said that Egypt's ceasefire proposal remains "the only viable framework" for the cessation of hostilities between Israel and Hamas.
Kerry met with UN chief Ban Ki-moon late Monday to discuss an Egyptian offer. Ban then headed to Israel as international diplomatic efforts intensified to broker a truce with Hamas and end two weeks of fighting.
Hours before he landed, Israel announced it was rejecting a UN request for a five-hour ceasefire in Gaza to allow residents to stock up on food and seek medical treatment.
World powers have urged Hamas to accept an Egyptian-brokered ceasefire and stop raining rockets into Israel from the Gaza Strip, demands it has so far resisted.
"Only Hamas now needs to make the decision to spare innocent civilians from this violence," Kerry said, and Ban Ki-moon appealed for the violence to "stop now".
But Israel justice minister and chief negotiator with the Palestinian Authority said Tuesday that "Hamas is nowhere near a ceasefire. We shall not cease until our military goals, eliminating tunnels, are achieved."
In Doha, the Qatari capital, Palestinian President Mahmoud Abbas met with Khaled Mashal, head of Hamas' political bureau.A source in Abbas' entourage termed the meeting "important and good," adding that despite the reservations Mashal had previously voiced about Egypt's cease-fire proposal, he and Abbas "agreed that they're interested in reaching an immediate cease-fire with Egypt's involvement."
Meanwhile, Defense Minister Moshe Ya'alon told the Knesset Foreign Affairs and Defense Committee Monday that Israel would like to see Palestinian Authority forces resume control of the Gaza Strip's border crossings, and especially the crossing with Egypt, under any ceasefire deal with Hamas.
Two Knesset members who attended the meeting said that according to Ya'alon, Egypt was the one insisting that Abbas' forces retake control over the crossings, and Israel supported this demand.
On Tuesday, Netanyahu spoke by phone with EU foreign policy chief Catherine Ashton and Japanese Prime Minister Shinzo Abe and urged them to push for a demilitarization of the Gaza Strip.
Kerry plans to hold his meetings Tuesday with the Egyptian leadership including President Abdel Fattah al-Sisi.
However US officials acknowledge that the truce efforts could prove trickier than in the past as Egypt -- long the key regional broker -- had little leverage with Hamas after the army overthrew Islamist president Mohamed Morsi last year.
The top US diplomat defended ally Israel's right to strike against Hamas militants, but voiced concern over the massive civilian violence.
"We are deeply concerned about the consequences of Israel's appropriate and legitimate effort to defend itself," he told reporters as he met with the UN chief, urging Hamas to accept the Egyptian-proposed ceasefire.
Ban said Hamas "should immediately stop firing rockets," adding that while he understood Israel's military response, "there is a proportionality and ... most of the death toll (has been) Palestinian people."
-- Hamas digs in -
Hamas on Monday reiterated its insistence on a lifting of Israel's blockade of Gaza and the release of prisoners to halt its rocket fire.
"The conditions for a ceasefire are... a full lifting of the blockade and then the release of those recently detained in the West Bank," its leader in Gaza, Ismail Haniya, said on television.
"We cannot go backwards, to a slow death," he said, referring to the Israeli blockade in force since 2006.
"The conditions of the Palestinian resistance constitute the minimum required for a truce. The resistance and the sons of our people who have made such sacrifices in this mad war cannot accept anything less."