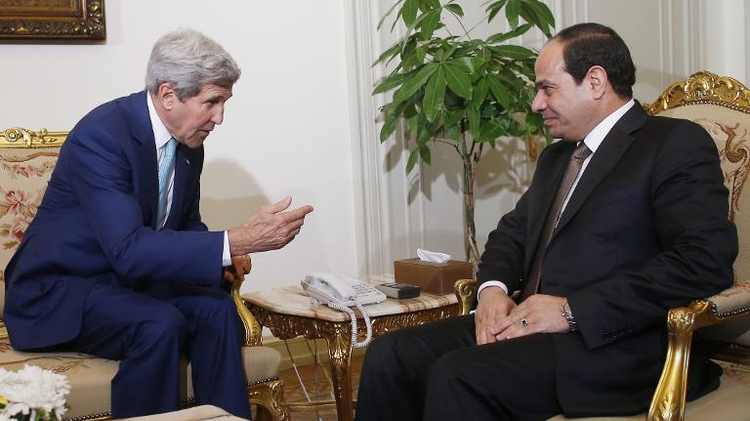 ☆
Israel, Palestinians agree to a 72-hour truce
credits/photos : Pool/AFP/File
US Secretary of State John Kerry (L) meets with Egyptian President Abdel Fattah al-Sisi in the capital Cairo on July 22, 2014
Ceasefire to start 0500GMT. Israeli delegation, led by negotiator Yitzhak Molcho, to leave for Cairo
Israel and the Palestinians have agreed Monday night to a new 72-hour Gaza ceasefire that would start at 0500 GMT Tuesday. Israeli cabinet members approved the Egyptian proposal. An Israeli delegation, led by negotiator Yitzhak Molcho to leave for Cairo Monday night.
An Egyptian official said: "Egypt's contacts with relevant parties have achieved a commitment for a 72-hour truce in Gaza starting from 0500 GMT tomorrow morning, and an agreement for the rest of the relevant delegations to come to Cairo to conduct further negotiations," the official told AFP.
Lebanese network Al Mayadeen reported Monday that Egypt asked Israel to commence negotiations alongside a temporary ceasefire, including a full withdrawal of its forces from Gaza. According to the report, Egypt intends to announce a 72-hour ceasefire starting from 0500 GMT.
According to Saudi Al Arabiya Israel told US Secretary of State John Kerry Monday it agrees to withdraw all its forces from Gaza in exchange for a ceasefire.
A diplomatic source in Cairo added that Egypt might assent to the Palestinian demand to ease the free flow of goods and people at the border crossings, but will not agree to a full lifting of the blockade. Hamas reportedly agreed to take off the table the demand to release Shalit deal prisoners rearrested during Israel's search for the three kidnapped and murdered teens (Operation Brother's Keeper).
Earlier a delegation of several Palestinian groups, including Hamas and Islamic Jihad senior representatives, concluded their meeting with senior Egyptian diplomats in Cairo - talks boycotted by Israel, which said it is currently employing a doctrine of unilateral withdrawal "on its own terms."
"Final 15 minutes of the war"
Al Mayadeen reported that an Islamic Jihad official who was present in the meeting described it as positive and optimistic, saying "these are the final 15 minutes of the war." A senior Hamas official was quoted as saying that "we are certain our demands are just." The talks are coordinated with senior Egyptian intelligence officials.
Reportedly, the Palestinian groups have agreed to a ceasefire in return for Israel's acceptance of four conditions.
Maher Taher, a member of the PLO delegation, told Israeli news site Ynet that the Palestinian demands had already been drafted and presented to the Egyptian mediator.
The preliminary demands include:
An immediate ceasefire and withdrawal of Israeli troops from the Gaza Strip
Ending the blockade and allowing for the free flow of goods and people
Removing the buffer zone put in place by the Israeli military around Gaza
Putting into place an airport as well as a seaport in Gaza
Extending the maritime border for fishing by 12 nautical miles
Releasing a fourth wave of Palestinian prisoners as originally agreed upon between Israel and the Palestinian Authority during the US-brokered peace talks
Implementation of the reconstruction of Gaza with the help of international aid
Release of Shalit deal prisoners rearrested during Israel's search for the three kidnapped and murdered teens (Operation Brother's Keeper)
On the eve of the visit, a senior Palestinian official in Ramallah claimed the Palestinians received "assurances" from the US that the blockade on the Gaza Strip would be removed once a ceasefire is reached.
The Palestinian delegation, which included the Palestinian Authority's intelligence chief Majid Faraj and senior Fatah official Azzam al-Ahmed, met with Egyptian officials on Sunday.
The delegation also consists of Hamas' Musa Abu Marzouk, Khalil al-Haya, Izzat al-Risheq and Emad al-Alami and Islamic Jihad officials Khaled al-Batsh and Ziad Nakhaleh, all living outside of the Gaza Strip.
US Middle East envoy Frank Lowenstein and special envoy to the Middle East Tony Blair were also expected to arrive in Cairo Sunday for talks on ending the 27-day conflict in Gaza.
Israel denied Cairo's invitation to attend the talks after Hamas violated a 72-hour humanitarian ceasefire it agreed to on Thursday night by killing two Israeli soldiers in southern Gaza and kidnapping an officer (pronounced dead by the army on Saturday).
"There's no point in promoting an agreement," a senior Israeli official told Israeli daily Haaretz on Saturday. "We're not talking about cease-fires anymore. Israel will act in its own interest. We will take action against attacks from Gaza, and will finish dealing with the tunnels."
Fatah's al-Ahmed said Sunday he believes Israel will join the talks in a day or two, adding "there is an agreement that the issue of managing Rafah's border crossing is a Palestinian-Egyptian issue that is not connected to Israel.
US won't pressure Israel into accepting ceasefire
Elsewhere, the Obama administration said it would not use its recent arms transfer to Israel in order to pressure the latter into accepting a ceasefire, the top Pentagon spokesman told reporters Saturday.
The arms given to Israel belong to "a longstanding foreign military sales program," said Pentagon Press Secretary Rear Admiral John Kirby. "Israel is a staunch ally in that part of the world. And that program has existed for many years."
Kirby also noted that the US would like to see an end to Israel's military operation in Gaza and a viable ceasefire agreement on the table.
"We respect the right for Israel to have to defend itself," he said. "And as I said before, I think the Israelis would tell you that the — and I won't speak for them, but I think it's safe to say that, you know, that they would like to see a return to peace, as well."
"It is made more difficult when Hamas hides behind civilian targets, deliberately puts civilians in harm's way and indiscriminately fires rockets into Israel," Kirby was quoted as saying by the Jewish Telegraphic Agency (JTA).
Kirby noted that the US has put pressure on Israel to lower the number of civilian casualties in its ongoing military campaign.
Lieberman floats idea of handing Gaza to UN
Israel's Foreign Minister Avigdor Lieberman spoke at the start of a Knesset Foreign Affairs and intelligence Committee meeting on Sunday, stressing that there has been no decision to end the Gaza operation, despite the withdrawal of most of the troops from the enclave in recent days. Lieberman said that Israel is facing three options to end the fighting: through negotiations, by defeating Hamas or remaining in "limbo." The FM ruled out the latter, however, because it meant the initiative would remain in Hamas's hands.
The traditionally hawkish politician raised some eyebrows when he said that he didn't rule out the option of Gaza being turned over to the UN. He said that such a move would require an agreement between Israel and the Palestinian Authority.
"It is definitely worth considering an international UN mandate in Gaza. The British Mandate is not just Israeli history," said Lieberman referring to British rule of pre-state Palestine after WWI. "The UN received a mandate to rule East Timor and Kosovo. We saw operating pretty well there. Returning the management of Gaza to the UN is something that should be considered. I do not rule it out."