☆
Abbas introduces 'hard labor' for Palestinians who sell land to Israelis
credits/photos : AFP/Archives
Le président palestinien Mahmoud Abbas aux Nations Unis, le 26 septembre 2014 à New York
Life imprisonment, hard labor for those involved in real estate deals with 'hostile countries,' order says
Palestinian Authority President Mahmoud Abbas on Monday published an order hardening the punishment for Palestinians who sell land to "hostile countries" and their citizens, the Jerusalem Post reported.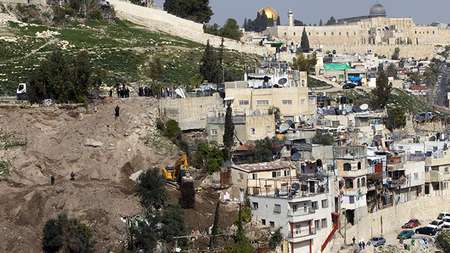 The order amends the Palestinian penal code to include stricter penalties for those who sell, rent out or act as real estate mediators with "hostile countries." The new penalties include hard labor in addition to life imprisonment.
Abbas's order comes the same day Israeli settlers moved into 10 new homes in East Jerusalem in spite of fierce local opposition and international condemnation of such takeovers.
According to Jawad Siyyam, a Palestinian activist who heads the Silwan Community Center, a group of Jewish settlers moved into two buildings in the neighborhood.
Silwan is a densely populated Palestinian neighborhood which flanks the southern walls of Jerusalem's Old City and has been the scene of frequent clashes involving a small group of hardcore settlers, the Israeli police and young, stone-throwing locals.
Monday night Palestinians threw Molotov cocktails and rocks at one of the newly-occupied buildings in the neighborhood, Israeli police said. The attack caused no damage or injuries.
Clashes erupted three weeks ago when settlers forcefully took over 25 apartments in the area.
Israel recently approved the construction of more than 2,600 settler homes in East Jerusalem, prompting Washington -- Israel's closest and most powerful ally -- to express its "deep concern" over the plans.
Those involved in Monday's takeover claimed to have purchased their homes legally from Palestinian owners, according to Siyyam.
"There are documents that prove that (the homes) were sold by Palestinians to settlers and so lawyers dealing with settlement issues have said we can't appeal," he told AFP.
Israeli nationalist groups, who say they aim to increase the presence of Jews in Palestinian neighborhoods in East Jerusalem, confirmed to AFP they had "facilitated and directed two new (building) acquisitions" in Silwan on Monday.
Siyyam said there were now around 500 settlers living in 90 buildings in the neighborhood.
Some 200,000 settlers live in East Jerusalem neighborhoods, as well as around 290,000 Palestinians.
IDF filmed arresting 11-year-old disabled Palestinian
The Israeli army were videotaped arresting and blindfolding an 11-year-old Palestinian boy with mental disabilities in the West Bank city of Hebron, Israeli media reported Monday.
According to the report, the Israeli human rights group B'Tselem realeased footage showing IDF soldiers arresting the boy as they attempted to apprehend Palestinians throwing rocks at vehicles on a main road.
The boy was released shortly after his arrest when his father told Israeli forces about his condition.
The IDF issued a statement regarding the incident, saying that the unit in question was attempting to catch two people throwing rocks. One of the two was an adult out on parole, while the second was the boy seen in the video.
(with AFP)