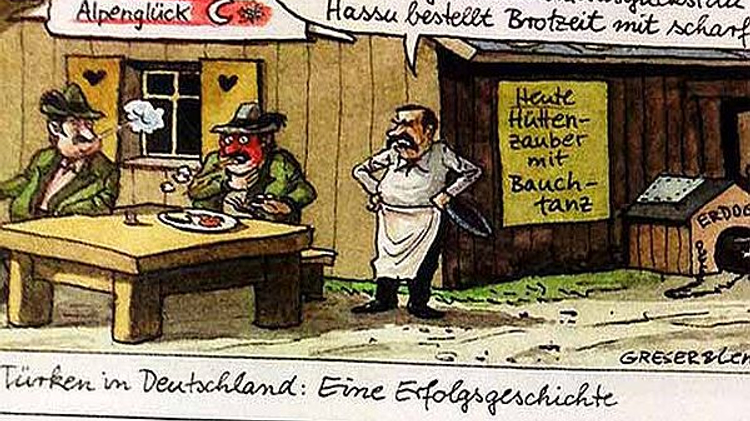 ☆
Turkey summons German envoy over 'Erdogan as dog' cartoon
credits/photos : Frankfurter Allgemeine Zeitung
Musa Kart's caricature of Turkey's President Recep Erdogan, 2011
President fines a man smoking a cigarette in a cafe: 'He blatantly behaved rudely'
The Turkish foreign ministry on Monday summoned the German ambassador to protest at the appearance in a German school textbook of a caricature of President Recep Tayyip Erdogan as a dog.
German ambassador Eberhard Pohl was summoned over the cartoon which appeared in a school textbook in the southern state of Baden Wuerttemberg, a foreign ministry spokesman told AFP.
According the reports, the cartoon had been taken from a 2011 article in the Sunday edition of the Frankfurter Allgemeine Zeitung newspaper which showed Erdogan as a guard dog with teeth bared coming out of a kennel marked "Erdogan."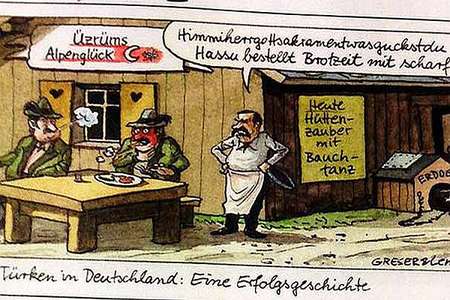 The cartoon, which had the sarcastic title "Turks in Germany-- a success story", was used in a high school textbook for social studies.
"We strongly condemn the appearance in a school textbook of a cartoon insulting our respected president and all Turks living in Germany," the foreign ministry said in a statement.
"There is no place in democracies for attempts to incite hatred in society, xenophobia and Islamophobia," it added, calling on Germany to prevent any re-occurrence of the incident.
Erdogan has in the past drawn criticism for his intolerance of cartoonists poking fun at him, taking them to court on several occasions.
Musa Kart, a cartoonist for the anti-Erdogan Cumhurriyet daily, was last month acquitted on charges of insulting the president that could have landed him in jail.
His case prompted several cartoonists outside Turkey to publish caricatures mocking Erdogan, under a Twitter hashtag campaign #Erdogancaricature.
While still prime minister in 2005, Erdogan sued a magazine called Penguen (Penguin) after it caricatured him as an elephant, a giraffe, a monkey and several other animals under the title "The World of Tayyips."
That case was thrown out by an Ankara court in 2006.
Erdogan 'has man fined' for smoking in cafe
On Sunday Erdogan fined a man after noticing he was smoking a cigarette on the balcony of a cafe as he visited a pedestrian street in Istanbul's working-class Esenler district.
All seemed to be going well as Erdogan waved to well-wishers and chatted with his entourage. But then he spotted the man smoking on a covered balcony on the second floor of a cafe, footage posted online showed.
Erdogan stopped and from the street wagged his finger at the man, telling the offender he was violating the law.
"There is a penalty for that," Erdogan told the smoker, who was not shown in the footage.
Erdogan beckoned over the mayor of Esenler, asking: "Where are the police?" The mayor smiled, before realizing the president was deeply serious.
"You know it, but this is wrong," Erdogan said. "He blatantly behaved rudely."
"This shameless guy is sitting there and keeps smoking even after the president tells him not to do so."
"It's the month of Muharram, for God's sake!" he said, referring to an Islamic holy month.
Istanbul mayor Kadir Topbas sought to ease tensions by suggesting that the man could promise not to smoke again, but Erdogan refused to calm down and ordered the police to fine the man on the spot.
Police fined the man 90 Turkish liras ($40 or 30 euros) after Erdogan left, Turkish media said.
In 2009, the Islamic-rooted government introduced a law imposing a smoking ban in all public buildings, cafes, bars and restaurants, including some covered outdoor spaces.
Erdogan has long been under fire for what critics say are efforts to interfere in people's lifestyles and imposing a creeping Islamisation on the officially secular country.
He is a tobacco hater, once declaring that the threat smoking poses is "even greater than the threat of terrorism."
In a similar episode in July, Erdogan berated a Turkish national team youth footballer for having a tattoo on his arm, warning it could have health risks.
(AFP)