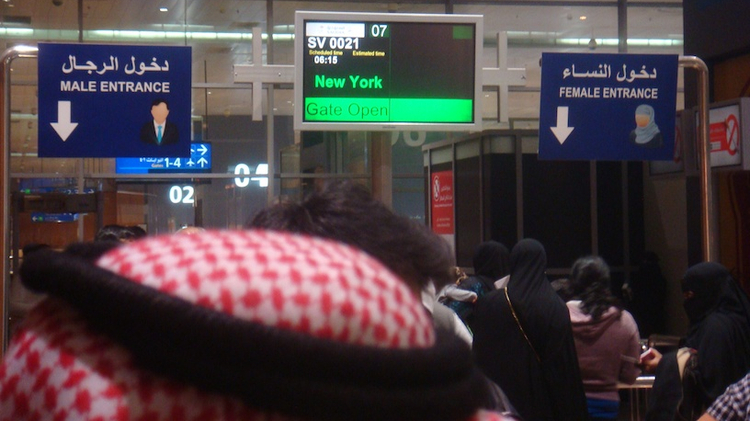 ☆
Saudi's national carrier to ban mixed-gender flights
Saudi's national carrier Saudia to ban mixed-gender flights
Mixed-gender sitting have been a bone of contention between Israel's El Al and its ultra-Orthodox passengers
Saudi Arabia's national airline Saudi Arabian Airlines, operating as Saudia, plans to ban gender-mixing aboard all its flights in line with the religious rules enforced by the Sunni Muslim regime, the Emirates247 news website reported Wednesday.
The flag carrier airline said the policy change came following recurrent complaints from passengers objecting to have random males seated next to their wives and other female family members.
"There are solutions to this problem…we will soon enforce rules that will satisfy all passengers," Saudia assistant manager for marketing Abdul Rahman Al Fahd said, quoted by the Saudi Arabic language daily Ajel.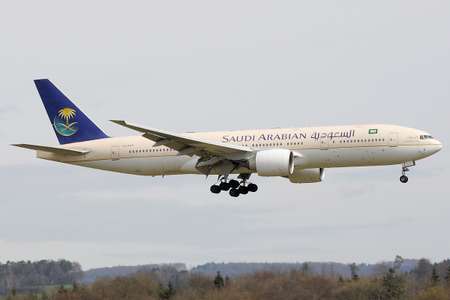 According to the paper the airlines' staff at all of the Gulf kingdom's airports will be instructed to make sure males and females are separated aboard Saudia's flights unless they are closely related.
Saudi Arabia is infamous for its culture of gender segregation, deeply rooted in tribal mentality of minimizing the exposure of Saudi women in society.
Many Saudi women require their mahrem (male guardian) approval to travel or work outside of the home, and most Saudi families do not want nor would support their female relatives exposed to work in public positions.
Furthermore, there are no female Saudi flight attendants on Saudi Arabia's national carrier. The women who have been employed as flight attendants on Saudia are generally from Morocco and Great Britian, as well as other countries.  
In 2010 Saudia surprisingly announced it was recruiting women as sales staff.
"We will employ women as ticket sales ladies in all parts of the Kingdom from next year," Saudi Airlines passenger services director, Saad Al Seuleiman, said then in a statement to the local Saudi media.
However, he stressed, "They will be deployed in places assigned specially for them away from the main terminals…they will work in places confined only to women…the policy of Saudi Airlines is clear in not allowing women to mix with men." 
AFP quoted the Saudi news website Sabq.org as saying the country's official fatwa issuing body, the Committee on Scholarly Work and Ifta, had reiterated that it is not permissible for a woman to work in a place where they mix with men.
"It is necessary to keep away from places where men congregate. Women should look for decent work that does not make it possible for them to attract men or be attracted by men," the fatwa warned.
Also in 2010 Saudi's Panda retail chain had employed 16 Saudi women as cashiers and as part of a pilot scheme to test the concept of women working in a mixed environment. It was faced with a Facebook campaign threatening to boycott the shop unless it stops employing women.
Israel not far behind
Mixed-gender sitting have been causing problems for Israel's national carrier El Al, as well.
Ultra-Orthodox (Haredi) men are used to forcing passengers on El Al Airlines flights to switch places with them, and in extreme cases even delaying flights so that they are not seated next to female passengers. 
Last September an Israeli campaign, seeking to put a stop to the phenomenon, was launched.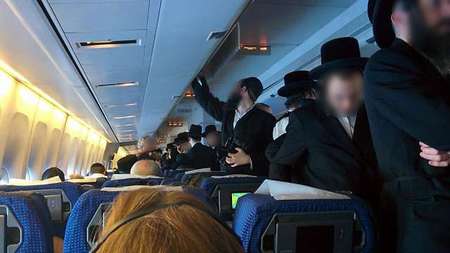 A petition on Change.org said: "Why does El Al Airlines permit female passengers to be bullied, harassed, and intimidated into switching seats which they rightfully paid for and were assigned to by El Al Airlines? One person's religious rights does not trump another person's civil rights."
The petition also said that El Al's policy condones harassment and gender discrimination.
"If a passenger was being verbally or physically abusive to airline staff, they would immediately be removed from the plane. If a passenger was flouting the rules for take-off, thereby causing flight delay, they would immediately be removed from the plane. If a passenger was openly engaging in racial or religious discrimination against another passenger or flight attendant, they would immediately be removed from the plane."
Earlier that month Haredi passengers aboard an El Al flight from New York's JKF airport to Israel, offered money to other passengers to switch seats on a flight.
The Haredi passengers, who could not switch their seats, stood up immediately upon takeoff and refused to sit back down. Although the passengers were not obliged to comply with the Hardei passengers' requests, the captain said the flight would not take off with people standing.
"It was an 11-hour-long nightmare," one of the passengers told Israeli news site Ynet.
In response, El Al said: "El Al does everything it can to give its passengers the best possible service year-round. These days bring with them a peak in air traffic to Israel, and our crews on the ground and in the air are doing the best they can to address the needs and requests of all our travelers while trying not to fall behind schedule.
"The company will examine the complaints and if some passengers are found to have acted out of line the company will examine its future steps."