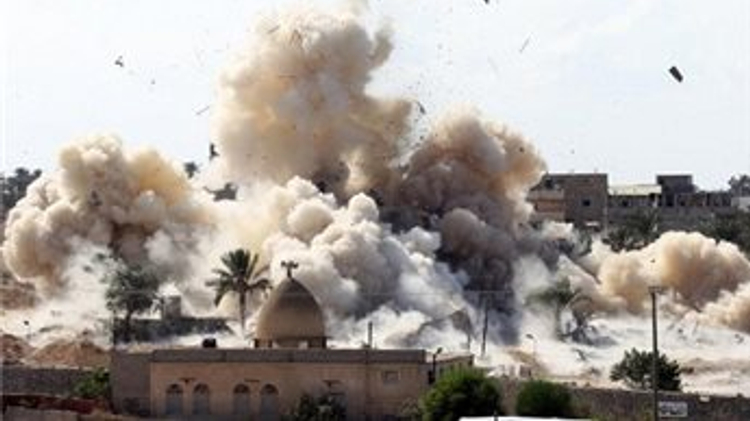 ☆
Egypt to completely destroy city of Rafah
credits/photos : AFP/Said Khatib
Smoke rises after a house is blown up during an operation by Egyptian security forces in Rafah near the border with southern Gaza on October 29, 2014
The city, which borders Gaza, will be demolished in order to create a buffer zone with the strip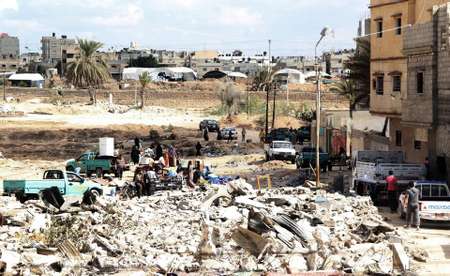 Egyptian authorities have decided to demolish the entire city of Rafah according to Palestinian Ma'an news agency.
The governor of the North Sinai district, Abd al-Fattah Harhour said at a news conference Wednesday that "a new Rafah city is being established with residential zones appropriate to the nature and traditions of the residents of Rafah."
More than 800 homes are being demolished and 1,100 families displaced to build the 1 kilometer wide and 13.5-kilometer long buffer zone in North Sinai province.
The government hopes the buffer zone will isolate the militants who say they attack the security forces in retaliation for the government crackdown on Morsi supporters in which at least 1,400 people have been killed in street clashes.
The authorities also hope that the buffer zone will neutralize hundreds of illegal underground tunnels connecting the Egyptian side of Rafah with Gaza.
Such tunnels are often used for smuggling weapons and militants, and the army says it has already destroyed more than 1,600 of them.
Although President Abdul Fattah Al Sissi himself has apologized to the people displaced by the new buffer zone, and has even promised them compensation, few Al Arish residents have any empathy towards those from Rafah.
They believe people from Rafah and other border towns have amassed fortunes by smuggling goods and weapons through the tunnels, especially since Israel imposed a blockade on the Palestinian enclave in 2006.
Egypt suspects Palestinian militants of aiding jihadist attacks that have increased since the army ousted Islamist president Mohamed Morsi last year.