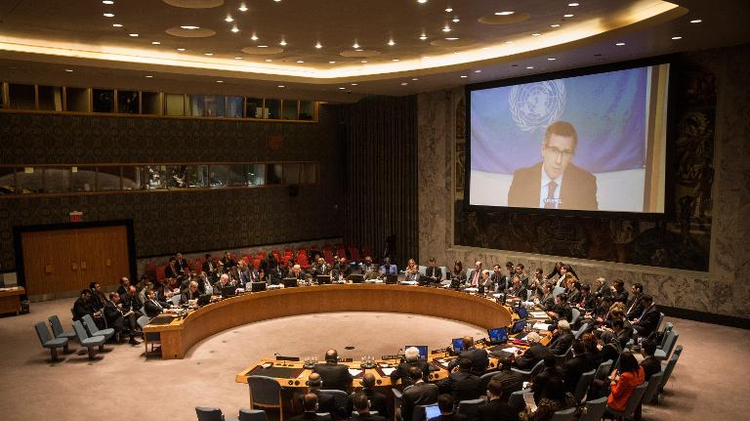 ☆
US seeks UN action against Syria chlorine attacks
credits/photos : Andrew Burton (Getty/AFP)
United Nations Special Representative and Head of the United Nations Support Mission in Libya, Bernardino Leon, speaks via video link to the UN Security Council, in New York, on February 18, 2015
Al-Nusra front claims attack on intelligence headquarters in Aleppo that killed 34
The United States is pushing the UN Security Council to threaten tough measures against the Syrian regime over its alleged use of chlorine in attacks, according to a draft resolution circulated to members on Wednesday.
The text obtained by AFP states that the Security Council "decides in the event of future non-compliance… to impose measures under chapter 7″ of the UN charter, which provides for sanctions and possibly military force.
The draft resolution submitted to the 15 council members "condemns in the strongest terms any use of any toxic chemical, such as chlorine, as a weapon in the Syrian Arab Republic."
The US move at the United Nations followed a report by the OPCW chemical watchdog in January that concluded "with a high degree of confidence" that chlorine gas had been used in attacks on three villages in Syria last year.
At least 13 people died in the attacks that were carried out from April to August, according to the report by the Hague-based Organization for the Prohibition of Chemical Weapons.
While the report did not attribute responsibility for the chlorine attacks, it cited 32 witnesses who saw or heard the sound of helicopters as bombs struck and that 29 smelled chlorine. Only the Syrian regime has helicopters.
President Bashar Assad's regime and the rebels have accused each other of using chemical agents, including chlorine, in the nearly four-year war that has killed more than 210,000 people.
After an August 2013 sarin attack outside Damascus that much of the international community blamed on Assad's government, the regime agreed to turn over its chemical arsenal.
But Syria did not have to declare its stockpile of chlorine — a toxic agent that can be considered a chemical weapon — as part of a disarmament deal agreed in 2013 because it is widely used for commercial and domestic purposes.
The US draft resolution stresses that those responsible for the use of chlorine and other toxic chemicals must be held accountable. 
Security Council experts were to meet Thursday to discuss the draft resolution, which could come up for a vote on Friday, diplomats said.
It remained unclear whether Russia, Assad's ally, would support the text and its serious threat of punitive measures.
Even if the draft resolution were to be adopted, any concrete action against Damascus would have to be approved by the council, giving Russia an opportunity to block further steps.
On Thursday, the council will also receive a report on progress in ridding Syria of its chemical weapons production sites, in line with the 2013 agreement reached between the United States and Russia.
Al-Nusra Front claims Aleppo attack
Meanwhile on Wednesday evening, the Syrian branch of al-Qaida, the al-Nusra Front, has claimed responsibility for a deadly attack earlier in the day on the intelligence headquarters of Syria's air force.
At least 20 members of regime security forces and 14 rebels were killed in a powerful blast and attack targeting air force intelligence offices in the west of Aleppo, the Syrian Observatory for Human Rights.
"The goal was to storm the building and to control it, but they failed," Rami Abdel Rahman, the director of the Britain-based monitoring group said.
Six civilians were also killed in separate rebel shelling of regime-controlled areas, he said.
The attack, which began with a powerful bomb blast in a tunnel targeting air force intelligence offices in Aleppo, was aimed at seizing the building but failed, the Syrian Observatory for Human Rights said.
"The explosion and the fighting caused dozens of deaths on both sides," it said.
A Syrian military source confirmed the explosion and said the heavy clashes had for the most part subsided.
Earlier this week Syrian rebel forces in Aleppo on Sunday rejected UN envoy Staffan de Mistura's plan for a freeze in fighting in the divided northern city, dealing a blow to his peace efforts.
"We refuse to meet with Mr Staffan de Mistura if it is not on the basis of a comprehensive solution to Syria's drama through the exit of (President) Bashar al-Assad and his chief of staff, and the prosecution of war criminals," a newly-formed Aleppo revolutionary commission said.
The political and military grouping was set up Saturday at a meeting in the Turkish border town of Kilis attended by exiled coalition chief Khaled Khoja, other opposition figures and Aleppo civil society representatives.
De Mistura's proposal "falls short of an initiative to resolve the humanitarian crisis of our people targeted by the regime's use of chemical weapons and barrel bombs prohibited by the international community", it said.
The Italian-Swedish diplomat, who has made the Aleppo freeze the centerpiece of his mediation efforts since he was named in July as special envoy to Syria, angered the opposition last month by describing Assad as "part of the solution" to the conflict.
Aleppo's opposition forces on Sunday also turned down preferential treatment for their region over other areas of Syria stricken by the four-year conflict.
"Syria and its people are one and indivisible. The blood of our brothers in Daraa (in the south), in Ghouta (near Damascus), in Homs (central) and in other Syrian provinces are no less important than our blood in Aleppo," they said.
De Mistura on Saturday held talks in Damascus to try to finalize a deal to freeze fighting in the battered second city of Aleppo.
He met Foreign Minister Walid Muallem and agreed to send a delegation from his office in the capital to Aleppo on a fact-finding mission, state news agency SANA said, without giving a date.
The envoy "hopes to set in motion as soon as possible his project" to halt fighting in Aleppo for six weeks, said a member of his delegation.
He has met government officials and opposition chiefs in recent weeks to promote his plan for a temporary truce in Aleppo in order to move aid into the northern city, as a starting point to be expanded to other regions.
Once Syria's commercial hub, Aleppo has been devastated by fighting that began in mid-2012, and the city is now split between loyalist forces and rebels.
About 220,000 people have been killed in Syria since its conflict began in March 2011 with anti-government protests that spiraled into a multi-sided civil war drawing foreign jihadists.
(with AFP)