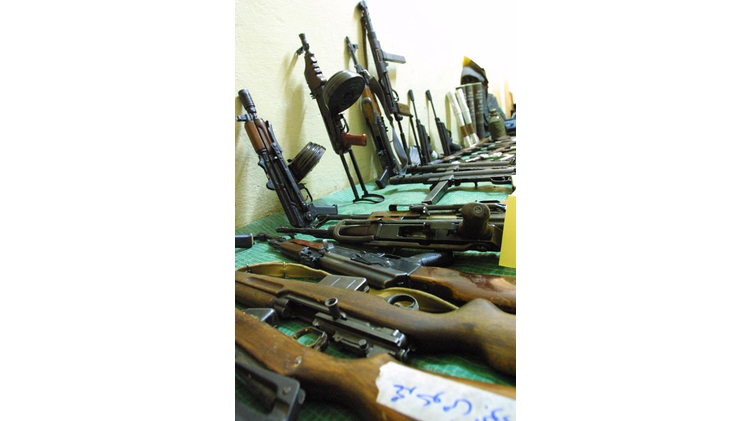 ☆
Saudi Arabia becomes world's biggest arms importer amid regional concerns
credits/photos : Leila Gorchev (AFP)
Weapons and ammunition seized by the Jordanian security forces during a hunt for wanted "outlaws" are collected at the central police station in Amman on November 15, 2002
Iran driving regional arms race; Worldwide military arms trade continues to rise
Saudi Arabia has become the world's largest arms importer, surpassing India, amid increased tensions in the Middle East.
Spending on arms by Saudi Arabia rose to $6.5 billion, rising 54 percent as compared to last year.
"Growth in Saudi Arabia has been dramatic and, based on previous orders, these numbers are not going to slow down," said Ben Moores, the report's author. Imports are expected to rise to $9.8 billion this year, an increase of 52 percent, the report stated.
The report also found that the Middle East is the biggest regional market for arms importation, with "$110 billion in opportunities in coming decade," according to Moores. The biggest beneficiary of the strong Middle Eastern market continues to be the United States, with $8.4 billion in arms exports in 2014.
"This is definitely unprecedented," stated Moores. "You're seeing political fractures across the region, and at the same time you've got oil, which allows countries to arm themselves, protect themselves and impose their will as to how they think the region should develop."
Saudia Arabia has until recently been limited by its ability to use advanced weapons, but the increase in technologically savy and educated people in the country has led to the kingdom being able to use more high-tech arms stated Moores.
David Cortright, director of policy studies at the University of Notre Dame's Kroc Institute for International Peace Studies, said that Saudi Arabia is building up its weapons supply amid increased tensions in the region.
Saudi Arabia is concerned that a possible deal on Iran's nuclear program could lead to a possible geopolitical shift in the Middle East which may threaten its ties with the United States.
"It may be a way of tempering that rapprochement with Iran," Cortright said. "You can think of it as ... deepening ties in a time of uncertainty, as a possibly greater role with Iran looms on the horizon."
Saudi Arabia is also concerned about the fight against Islamic State militants. The kingdom is part of the US-led coalition and there here have been numerous attacks by IS militants on the Saudi border, killing a number of soldiers.
"From an objective security perspective, Saudi Arabia should be cooperating with Iran to deter and push back ISIS in Iraq. The old 'the enemy of my enemy is my friend' approach," Cortright said. "But Saudi Arabia has deep ideological and geopolitical differences with Iran that prevent it from considering such a temporary marriage of convenience."
"We've all been waiting for the storm in the Middle East," Moores said.
-Military arms trade continues to rise-
The military arms trade rose for a sixth straight year in 2014, with imports rising from $56 billion to $64.4 billion.
The United States remains the largest arms exporter, with $23.7 billion in sales. Russia came in at second at $10 billion. France, the United Kingdom, Germany, Italy, Israel, China, Spain and Canada also making the top ten arms exportation countries.
Israel dropped from the sixth-largest arms exporter in 2013 to the seventh slot in 2014.
India fell into second place in 2014 as world's largest arms importer.
In February, India's Prime Minister Narendra Modi said that India has "the reputation as the largest importer of defense equipment in the world...but this is one area where we would not like to be number one."
"We are reforming our defense procurement policies and there will be a clear preference for the equipment manufactured in India," concluded Modi.
It was followed by China, the UAE, Taiwan, Australia, South Korea, Indonesia, and Turkey.