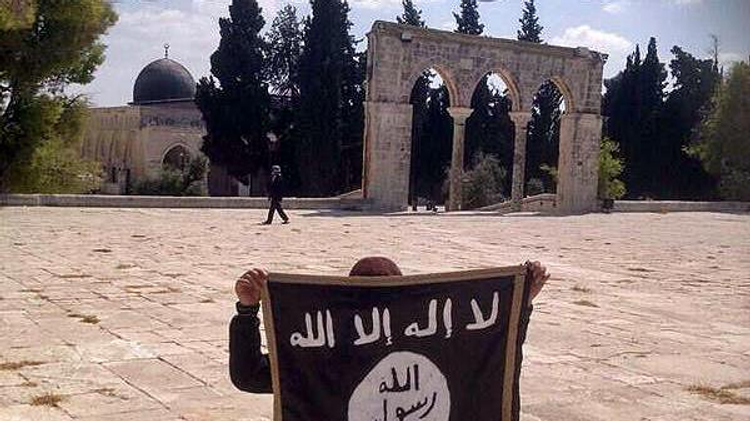 ☆
Islamic State supporters give Hamas 48-hour deadline to stop Gaza crackdown
credits/photos : Facebook
A boy holding up the Islamic State flag on the Temple Mount in Jerusalem in 2014
IS claims responsiblity for rocket attack on Israel; US-led coalition preparing to meet in Paris
Proponents of the Islamic State group in the Gaza Strip have issued the ruling Hamas movement a 48-hour deadline to stop its crackdown on them, the Associated Press reported Tuesday.
In a statement sent to the media, IS supporters claimed responsibility for firing a rocket on Israel from Gaza last week.
The Islamist group Hamas, which has ruled over Gaza since 2007, has clamped down on radical Islamists after a series of unclaimed bombings rocked the enclave.
Earlier this month, Hamas arrested dozens of Salafi-jihadists who are affiliated with Islamic State, sources in the Gaza Strip said.
The current tensions between the two terrorist groups began on May 3, when Hamas destroyed a mosque belonging to a group known as the "Supporters of the Islamic State in Jerusalem." The group responded by threatening to kill Hamas members – publishing some of their names and photos - unless Hamas releases several men, including a local Salafi sheikh.
In a statement, the Salafi group said Hamas had demolished the mosque "in a manner that even the Jewish and American occupation has not done," the Egyptian daily newspaper Al-Masry al-Youm reported.
The Salafi group added that "in the light of Hamas's new behavior, we renew our loyalty to Abu Bakr al-Baghdadi [leader of the Islamic state] and call on him to strengthen his influence and to launch a campaign in Palestine and to unite in the fight against the Jews and their accomplices."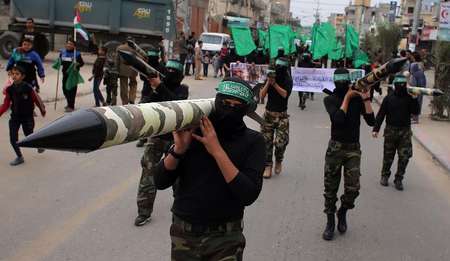 The pro-Islamic State Salafi groups consider Hamas, which fought a 50-day war against Israel last summer, as being too soft on Israel and for failing to impose stricter Islamic laws in Gaza.
The extremist group beheaded several Palestinians in Yarmouk refugee camp in Syria last month, spurring a vow of revenge from both the Palestinian Authority and Hamas.
The Islamic State also sought to criticize Hamas' treatment of Gaza residents. A statement on Twitter said Palestinians in Gaza faced "arrest, torture, murder, and displacement at the hands of Hamas."
Hamas did not publicly comment on the accusations; however, sources close to the terrorist organization said that the bulldozed building was a Salafi-jihadist office and not a mosque.
US-led coalition to meet on IS as suicide bomb kills 37
Meanwhile, US-led coalition members carrying out air raids against the Islamic State group were preparing to meet on Tuesday after a huge suicide bomb against an Iraqi police base killed at least 37 people.
The blast, which further slowed an operation to retake the city of Ramadi, came ahead of the Paris talks which will address a string of major battlefield gains by the IS jihadists in Iraq and Syria.
On Monday, a suicide bomber blew up his explosives-laden vehicle at a police base in Iraq s Salaheddin province, killing at least 37 people and wounding more than 30, officers said.
"They are mostly policemen," said a doctor at the main hospital in the nearby city of Samarra where the casualties were taken.
Some police officers said the suicide attacker used a tank to force his way into the police base, located between Samarra and Tharthar lake, northwest of Baghdad.
The area is being used as part of a military operation aimed at cutting off the Islamic State group s supply lines in Anbar province of western Iraq.
IS fighters have in the past year seized a formidable arsenal of military vehicles, weapons and ammunition from retreating Iraqi forces.
The jihadists latest haul of gear came on May 17 when Iraqi forces fled and they captured Ramadi, the capital of Anbar.
The debacle prompted Prime Minister Haider al-Abadi to call in the Hashed al-Shaabi, an umbrella organisation which includes Iran-backed Shiite militias that Baghdad and Washington had been reluctant to involve in the Sunni bastion of Anbar.
Iraqi forces launched a counteroffensive but have either stopped on the outskirts of Ramadi or focused efforts on outlying areas in and around Anbar to sever the jihadists supply lines.
(with AFP)