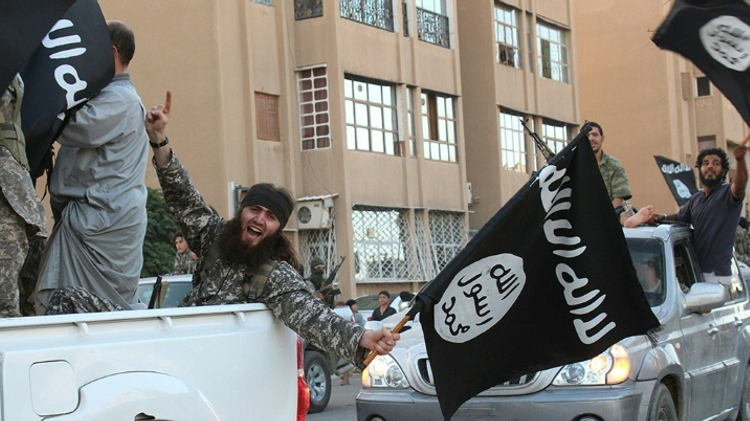 ☆
Two Arab Israelis charged with planning IS-linked attack in Israel
credits/photos : - (Welayat Raqa/AFP)
The black flag is waved by the Islamic State group in the northern rebel-held Syrian city of Raqa, in this image provided Jihadist media outlet Welayat Raqa
The two men Nazareth are accused of supporting IS and contacting representatives from terror group in Syria
Two Arab citizens of Israel have been charged with having links to the Islamic State group planning a terror attack in Israel, Israeli media reported Thursday after a gag order was lifted.
The two men, Baha Aldin, 20, and Ahmed Ahmed, 22 from Nazareth are accused of supporting IS and contacting representatives from the terror group in Syria.
According to their indictment, they had planned to both purchase a rifle costing up to 1500 shekel ($385) each.
The Shin Bet has revealed that the two men had been closely following Islamic State activities online and expressed support for the group.
Aldin was arrested towards the end of January and his interrogation revealed that he was planning a shooting attack against Israeli security forces in Jerusalem, according to the indictment.
This is not the first time Arab Israelis have been charged with planning attacks linked to Islamic State.
According to the Shin Bet internal security agency, some 45 Arab Israelis have joined jihadist forces in Syria, mainly entering through Turkey. At least four were killed in fighting there, and 10 were arrested upon returning to Israel.
The Shin Bet has warned of the "security threat posed by Israelis joining IS after being exposed to propaganda disseminated by the group, primarily via the Internet.
"Their return to Israel, with knowledge of and practical experience in terrorism and warfare, exposes the country to significant risks of severe terrorism," the agency said in a statement earlier in the year.
In August, two Israeli-Arab men were indicted on charges of attempting to join the Islamic State group in Syria.