'Leaders like you Mr. Peres are what make the world a better place,' supermodel says during Israel visit
Former Israeli president Shimon Peres celebrated International Women's Day on Tuesday by hosting supermodel Naomi Campbell at a conference about women and change at the Peres Center in Tel Aviv-Jaffa.
"We have no future in a world that discriminates against women," Peres said at the start of the conference.
"No one is allowed to discriminate against women, not in Israel, and not around the world," he added. "Discrimination against women affects all of us and the future of our children."
"Women are the future. There are women pilots, we can learn a lot from them, they are strong, have courage, have precision, are brave. A room without women is a room without a future. A world without women is a world without a future."
Peres presented Campbell with the "Women Leading Change" award in honor of her work for women and communities.
"Leaders like you, Mr. Peres, and Nelson Mandela, are what make the world a better place," Campbell said during a joint interview with Peres. "You inspire me."
"My mother is an anchor in my life, she raised me alone and made me believe in myself and not give up," Campbell continued.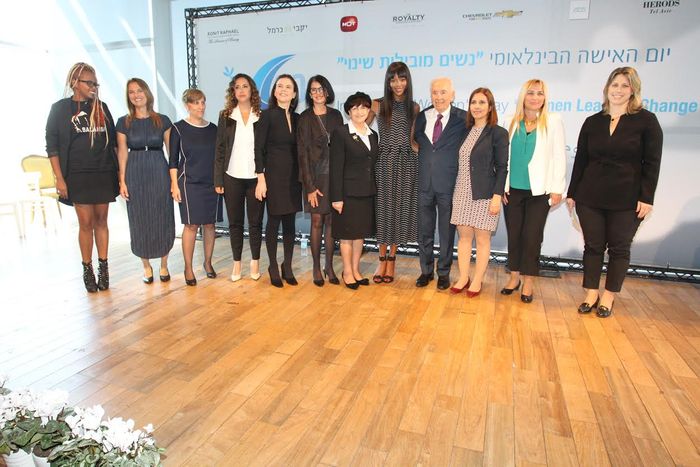 "I have overcome many obstacles in my life but never held up my hands and gave up," she said. "I was blessed with wonderful people who work with me and accompany me along the way and my mother, she's my anchor and showed me that as a single parent, it's possible to a wonderful mother. I think that when you have courage and you love what you do, you are one hundred percent committed. The sky is never the limit."
Peres and Campbell took part in a panel with nine other female leaders, including businesswoman Ofra Strauss, Adina Bar-Shalom, daughter of the late chief rabbi Ovadia Yosef and founder of the Haredi College, and Nadia Kinani, principal of Hand in Hand, a bilingual school for Jewish and Arab children in Jerusalem.
Campbell is not an obvious choice to champion women's rights as she has in the past had to defend herself against allegations of assault against female employees and accepting blood diamonds. She has been convicted of assault on four occasions and accused 11 times of committing acts of violence against employees and associates.
In August 2010, Campbell appeared at a war crimes trial against former Liberian president Charles Taylor where she was called to give evidence on a "blood diamond" she allegedly received from Taylor in 1997.