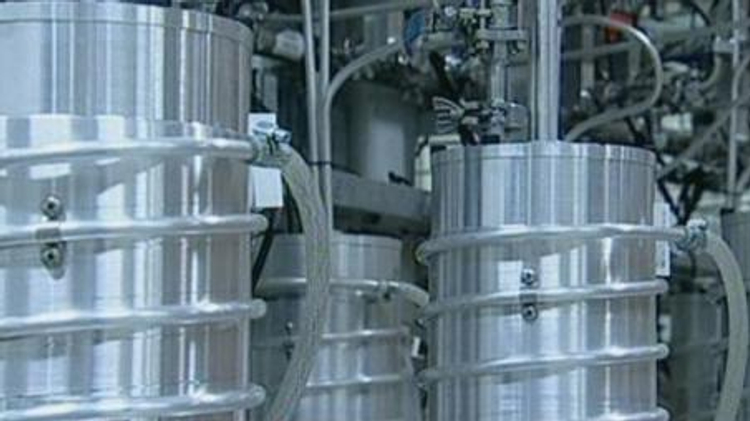 ☆
Most Israelis support Netanyahu over Iran, according to poll
credits/photos : (Press TV/AFP/File)
View of nuclear centrifuges at Iran's Nantanz nuclear facility
Poll found that 58 percent of respondents support Benjamin Netanyahu's stance over the Iranian nuclear issue
Most Israelis support Prime Minister Benjamin Netanyahu's stance over the Iran nuclear issue, an opinion poll showed Friday.
Some 58 percent of respondents to the question "how would you rate Netanyahu's recent performance in the global arena vis-a-vis Iran?" said it was good (41 percent) or very good (17 percent), according to the poll published in the Haaretz newspaper.
Netanyahu and his government expressed bitter scepticism over nuclear talks in Geneva between Iran and the P5+1 countries -- the United States, Britain, France, China and Russia plus Germany -- warning Western allies they risked being duped into easing sanctions prematurely.
The P5+1 and Israel fear that Tehran's atomic program is a disguised effort to develop nuclear weapons capability, a claim it denies vehemently.
he Israeli leader said Israel reserved the right to carry out a unilateral military strike to prevent Iran obtaining nuclear weapons capability.
Netanyahu's tough stance on foreign affairs -- including Iran and negotiations with the Palestinians -- and his sidelining of domestic issues since his re-election in January have been working to his advantage, the poll said.
It said 63 percent of respondents thought Netanyahu was the person best suited to the prime minister's job, compared with 56 percent who said the same thing in a July survey.
The poll was carried out on Oct. 15 by the Dialog Institute under the supervision of Professor Camil Fuchs of Tel Aviv University, and questioned 501 people with an error margin of 4.4 percent.
Differences of opinion
Responses to the P5+1 talks have ranged from cautious optimism to downright skepticism. On Thursday, Israel's Energy Minister Silvan Shalom accused the European Union and the US of being more interested in the resumption of Iranian oil exports than with addressing an issue that Israel regards as a threat to its very existence.
But Washington, which has had no diplomatic relations with Tehran since the aftermath of the 1979 Islamic revolution, said Iranian negotiators had shown a greater level of "seriousness and substance" in this week's talks than ever before.
"I have never had such detailed, straightforward candid conversation with the Iranian delegation... These were serious enough discussions that they ought to have a chance," said a senior US official involved in the talks.
But Israel insisted Iran's intentions could be proved only by concrete steps to wind down its nuclear program, not by "sweet talk" from its new president.
"Iran will be judged by its actions and not by its presentations," a senior Israeli official said. "Until significant steps are carried out on the ground which prove that Iran is breaking up its military nuclear program, the international community must continue to impose sanctions upon it," he added.
"The pressure of sanctions brought Iran to this point and must continue until Iran is stripped of its nuclear military program."