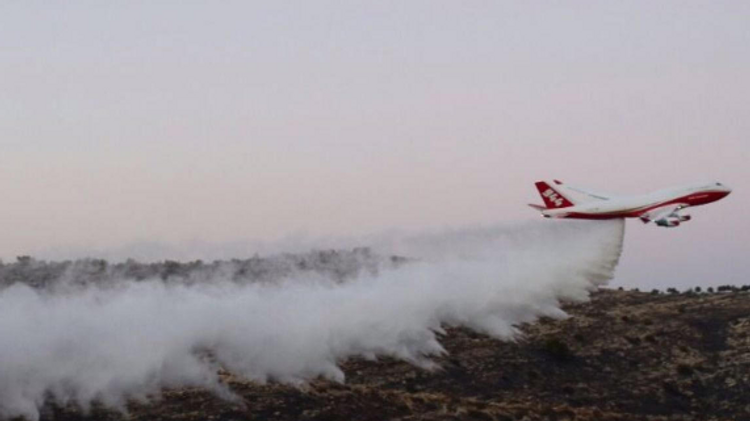 ☆
WATCH: World's largest firefighting aircraft comes to Israel's rescue
credits/photos : Israel Police Spokesperson Unit
US Supertanker on its first mission over Jerusalem Hills in bid to tame raging wildfires, Saturday November 26
Aircraft, which is capable of carrying up to 19,600 gallons of retardant or water, joins other foreign planes
Supertanker flying low over Nataf & surrounding Judean Mountains
(credit: Oren Rosenfeld) #IsraelFires pic.twitter.com/8lkt5Zb3O5

— i24NEWS English (@i24NEWS_EN) November 26, 2016
The US Supertanker, considered the largest firefighting aircraft in the world, began its first mission in Israel on Saturday in an effort to tame wildfires that have been raging in Israel since Tuesday.
The Supertanker, which is capable of carrying up to 19,600 gallons of retardant or water was dispatched over the Jerusalem hills area, close to Israel's central east-west highway, and was seen flying over the Nataf area, which has suffered badly as a result of the fires.
"We are here to help you," said the staff of the plane, who hail from Nevada in the United States.
Prime Minister Benjamin Netanyahu announced the decision to bring the plane Friday.
The Supertanker was brought to Israel in 2010 to help tame that a wildfire that broke out in Carmel mountain region, which resulted in 44 deaths. However the plane was brought to Israel too late, meaning that it was not used.
The supertanker is the 21st plane to arrive in Israel to assist firefighters struggling to contain raging fires across the country.
Israel has received airborne assistance from a number of countries, including Russia, Turkey, Greece and Croatia, France and Spain.
Netanyahu said Israel had also accepted pledges of support from Arab neighbors Jordan and Egypt, though the two governments declined to comment.
On the ground, Palestinian firefighters on Thursday night joined the Israelis, sending four fire engines to the northern city of Haifa and four more to the village of Beit Meir, near Jerusalem.