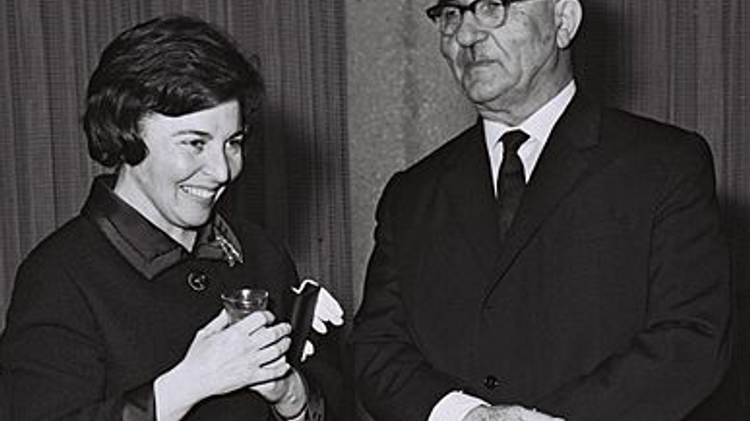 ☆
PM Netanyahu, wife Sara express 'deep sorrow' over passing of Miriam Eshkol
credits/photos : Moshe Pridan (National Photo Collection)/Wikimedia Commons
Israeli Prime Minister Levy Eshkol and his wife Miriam during a reception for the Zionist Executive Committee at Beit Elisheva in Jerusalem
Miriam Eshkol, wife of former prime minister Levi Eshkol, died in Jerusalem aged 87
Israeli Prime Minister Benjamin Netanyahu and his wife Sara on Saturday evening expressed their deep sorrow over the passing of Miriam Eshkol, the wife of former Prime Minister Levi Eshkol.
Miriam Eshkol died Saturday at Hadassah Medical Center in Jerusalem at the age of 87.
She will be buried next to her husband at Mt. Herzl.
"Miriam Eshkol had worked tirelessly toward the establishment of a visitor's center in memory of her late husband, former Prime Minister Levi Eshkol, which is due to open soon," said a statement from the Prime Minister's Office.
"We regret that she will not be able to dedicate the center for which she had worked so hard," Netanyahu and his wife said.
Miriam and Levi married in 1964 in a private wedding at the Prime Minister's residence.
While Miriam worked as the Knesset librarian, she also took an active role in assisting her husband and she was closely watched by the media.
After Levi Eshkol's death in 1969, Miriam maintained an active public profile and was elected as president of the Israeli Union of Women Academicians and president of the Association for Scientific Development and Promotion of Medical Research.