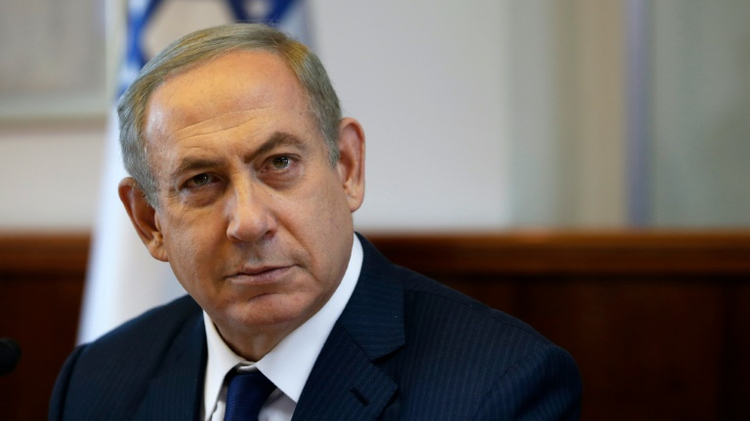 ☆
'Israelis don't trust Netanyahu on submarine affair, but back him to be PM'
credits/photos : Ronen Zvulun (Pool/AFP)
Israeli Prime Minister Benjamin Netanyahu attends the weekly cabinet meeting at his office in Jerusalem on November 13, 2016
Poll suggests that nearly half of Israelis don't believe Netanyahu acted purely out of security considerations
While Prime Minister Benjamin Netanyahu has insisted that his decision to purchase three new German-made submarines for the Israeli Navy was based solely on security considerations, nearly half of the Israeli public don't believe him, according to a poll by Israel's Channel 2.
Despite this low approval rating, the prime minister still came out on top when Israelis were asked who they thought should be prime minister. 
Two weeks ago reports emerged that an Israeli attorney known for close ties to Netanyahu was appointed to the director's board of a subsidiary firm linked to the ThyssenKrupp, the German submarine producing conglomerate making deals with Israel to the tune of billions of dollars.
Israel's Attorney General Avichai Mandelblit last week ordered police to launch an investigation into the scandal embroiling Netanyahu and his attorney after Israeli media reported Mandelblit was examining a possible conflict of interest on the part of Netanyahu.
According to the Channel 2 poll, 47 percent of Israelis did not believe Netanyahu's claim that he was thinking only of Israel's security when he advanced the purchase of the submarines. In contrast 36% of respondents believed Netanyahu.
Netanyahu referred to the case at the beginning of the weekly Cabinet meeting last week. "As Prime Minister of Israel, I dedicate the best of my time to ensuring the security of Israel," he said. "The principle that guides me is clear – Israel will be able to defend itself by itself against any enemy, in any field. The security of Israel requires the acquisition of submarines and the renewal of the submarine fleet. These are strategic weapons systems that ensure the future, and I tell you, the very existence of the State of Israel for decades to come."
According to the poll, opinion was split as to whether there was media bias against Netanyahu regarding coverage of the affair, with 43% agreeing with the prime minister that the media's treatment of the matter was unfair and 45% disagreeing.
Even though nearly half of respondents said they did not trust Netanyahu regarding the submarine affair, the prime minister was still far ahead in the poll when Israelis were asked which prominent political leader is most "fit" to be prime minister.
The survey showed that 29% preferred Netanyahu, 16% said they would vote for Yesh Atid chairman MK Yair Lapid, and only 7% each for opposition leader MK Isaac Herzog and Defense Minister Avigdor Liberman.