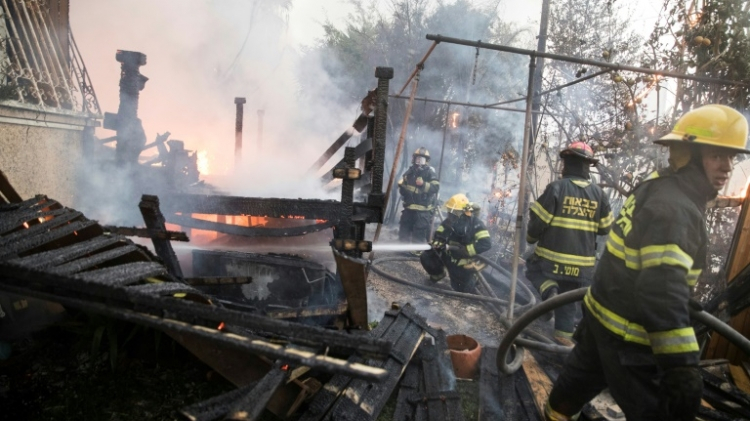 ☆
Haifa mayor after devastating fires: Nothing can break Jewish-Arab peace in city
credits/photos : جاك غيز (اف ب)
Israeli firefighters working to put out the fire in Haifa on November 24, 2016
Yona Yahav tells i24news that there is still a lot of hard work to be done to to rehabilitate city
"Haifa is the only place on earth exercising real peace between Jews and Arabs. Nothing can break it," Haifa mayor Yona Yahav told i24news Monday as his city comes to terms with the devastation caused by huge wildfires that wreaked havoc last week.
Israeli firefighters had since Tuesday been battling wildfires throughout the country which on Thursday hit Haifa, forcing tens of thousands to evacuate their homes.
Israel's cabinet met in Haifa Sunday in an act of solidarity, with Netanyahu saying he hoped to form a multi-national firefighting force in the future.
"There is vast damage all around, about two and half thousand dunams in total. We have never faced this type of damage," Yahav said during his interview with i24news.
Yahav said that even though the fires have all been extinguished, there is still much work to be done in Haifa. He said that even though it's only been two days since the fires were put out, there is a long and complicated process ahead.
"The finance minister is a Haifa resident, that will help," Yahav said. "It's not simple but I'm sure we will find a solution."
Israeli Police on Sunday said that of 90 fires investigated thus far, approximately one-third (or 30 to 40 incidents) were started by arsonists, according to Hebrew media reports.
However, police said that there has thus far been no evidence to indicate the arson had been nationally coordinated or planned in advance and that the arson was more likely local and opportunistic.
Authorities said that firefighters have extinguished blazes that ravaged the country for five days and forced tens of thousands to flee.
There were no deaths but 122 people were treated for injuries, mainly smoke inhalation, medical officials said.
Around 700 homes were damaged or destroyed as the flames fed by high winds ripped through thousands of hectares (acres).
Firefighting planes from a list of countries flew low over the hills of the West Bank and Israel, dropping tonnes of water and retardants.
Levy said firefighters dealt with about 2,000 fires in Israel and the West Bank, 20 of them major.
Israeli authorities suspect some were set deliberately and linked to the Israeli-Palestinian conflict.
Defence Minister Avigdor Lieberman said Sunday 17 of 110 fires in the West Bank were so far determined to be arson, without elaborating.