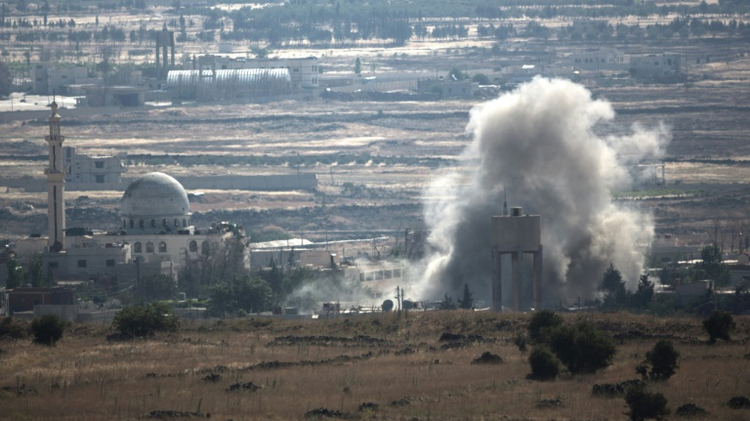 ☆
Analysis: Why is IS picking a fight with Israel?
credits/photos : Menahem Kahana (AFP/File)
A picture taken from the Israeli-annexed Golan Heights shows smoke rising following explosions in a village in Syria's Quneitra province, on June 17 2015
The group is weaker now, facing difficulties recruiting new fighters and has a lack of financial resources
Monday's cross border clash between Israel and an Islamic State affiliate on the Syrian Golan Heights border has raised some serious concerns.
Why is the Islamic State starting a war on another front?
The cell that was involved in the most recent incident is part of the Yarmouk Martyrs Brigade, a local armed faction that has been fighting in Syria since 2012. In 2014 the brigade pledged allegiance to IS and its leader Abu Baker AL Baghdadi. Last April Yarmouk Martyrs Brigade changed its name to Jaish Khaled Bin Alwaleed (Army of Khaled Bin Alwaleed).
The terrorist organization is involved in a fierce and draining battle in Iraq. Since October 17, IS has been fighting Iraqi forces that are trying to regain Mosul, the group's de facto capital in Iraq. The international coalition is also targeting IS members there.
But the group fighters in Syria are also under attack on multiple fronts. The Free Syrian Army assisted by the Turkish Army are also after them. In addition, the US with its allies is targeting the group from the skies. Finally, Russia says it's targeting IS in Syria.
So, if the group is spread thin and fighting on multiple fronts, why pick a fight with Israel?
More importantly, who ordered the attack?
One explanation could be that the order was made on the spot. The terrorist cell either spotted the Israeli Army unit and opened fire for fear that it was being targeted.
The other explanation is that the order came from higher up at the IS headquarters in Raqqa, Syria. If that is the case, it may be the group's way of alleviating the pressure it is under in both Iraq and Syria. The group is weaker now, is facing difficulties recruiting new fighters and has a lack of financial resources.
IS last chance to survive might be picking a fight with Israel in an attempt to garner sympathy from the region in hope of surviving.