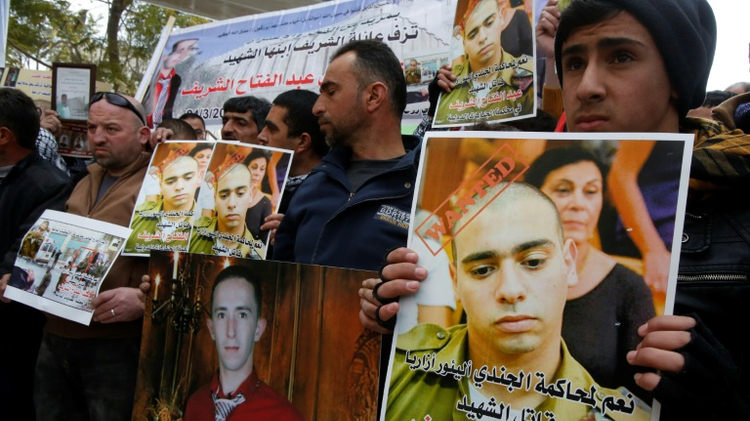 ☆
Supporters of IDF soldier convicted of manslaughter arrested after protests
credits/photos : HAZEM BADER (AFP)
Protesters hold pictures of Israeli soldier Elor Azaria and Palestinian Abdul Fatah al-Sharif shot by Azaria
Azaria's conviction has deeply divided Israeli public opinion, onslaught of clashes and protests since verdict
More arrests have been made overnight in the aftermath of Israeli Defense Forces (IDF) soldier Elor Azaria's manslaughter conviction for shooting dead a wounded Palestinian assailant, police said on Sunday.
Seven were apprehended on grounds of public order offenses by the Israeli police following an unruly protest outside the Jerusalem residence of President Reuven Rivlin overnight Saturday.
"During the night dozens of demonstrators arrived opposite the president's residence where they wanted to carry out an illegal protest in support of the soldier Elor Azaria," a police statement said.
"Some of them blocked the road and refused to obey police instructions. Seven demonstrators were arrested for breach of public order."
An eighth person was arrested on charges of seeking to disrupt a reconciliation rally in Tel Aviv earlier in the night.
There have been an onslaught of protests and clashes since the results of the deeply divisive trial convicting 21-year-old IDF soldier Elor Azaria of manslaughter after being caught on video last March shooting an immobilized Palestinian who had just perpetrated a stabbing attack against Israeli soldiers.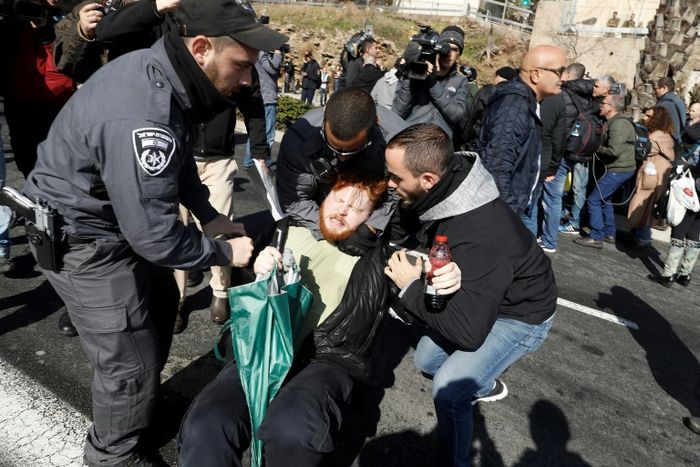 Multiple arrests have been made since last Thursday including two Israelis for inciting violence and calling for attacks on the three judges who oversaw the trial.
Another was detained on suspicion of taking part in a hate campaign against armed forces chief of staff Lieutenant General Gadi Eisenkot, who ordered the prosecution of Sergeant Elor Azaria that angered many on the Israeli right.
"Without of course taking any stand on the legal verdict, we fully condemn a blatant attack such as we are now witness to, which has no place in any proper society," Justice Miriam Naor said.
"Substantive criticism of a verdict is of course legitimate, but the assaults taking place these days have violated the limits of legitimate dialogue, and pose a danger to the rule of law and democracy," Naor added.
Azaria's conviction has deeply divided Israeli public opinion between those who believe he was wrongly tried and those who say the conviction was the right and proper consequence of his actions.
Right-wing politicians -- including Prime Minister Benjamin Netanyahu -- have already called for Azaria to be pardoned, even though he has yet to be sentenced and his lawyers say he may appeal.
Azaria faces up to 20 years in prison.
(Staff with AFP)