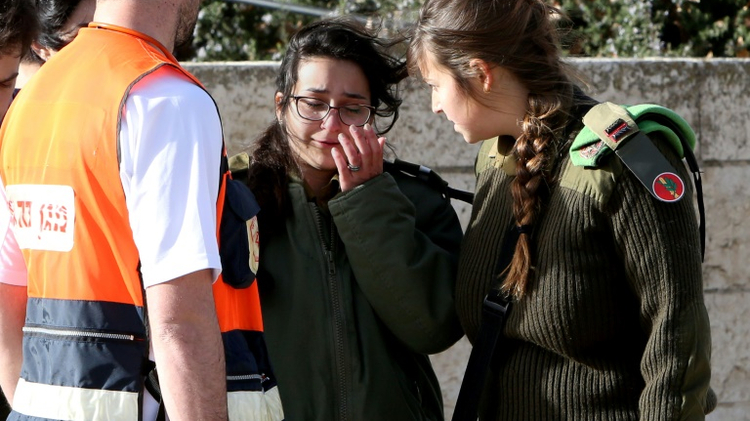 ☆
Truck attacker that killed four soldiers supported Islamic State, Netanyahu says
credits/photos : Gali Tibbon (AFP)
Israeli medical personnel assist an Israeli soldier who was an eye witness to the attack in Jerusalem, on January 8, 2017
At least 14 others were wounded in the attack
Four Israeli soldiers were killed and at least 14 people were injured after a truck rammed into a crowd as they were disembarking from a bus on a popular tourist promenade in east Jerusalem's Armon Hanatziv neighborhood on Sunday.
The victims were named as Shir Hajaj, 22, and 20 year-olds Yael Yekutiel, Shira Tzur and Erez Orbach.
Prime Minister Benjamin Netanyahu said the assailant, who was shot dead at the scene, was "by all indications" a supporter of the Islamic State group.
"We know there is a series of attacks, and there certainly could be a connection between them, from France to Berlin and now Jerusalem," said the prime minister, apparently referring to terrorists who used trucks as weapons in Nice and Berlin in 2016.
Sources from the Prime Minister's Office said Israel will introduce administrative detention for individuals voicing support for Islamic State group.
Police and military cordoned off the Jabel Mukaber neighborhood of east Jerusalem, which was reportedly where the suspect lived.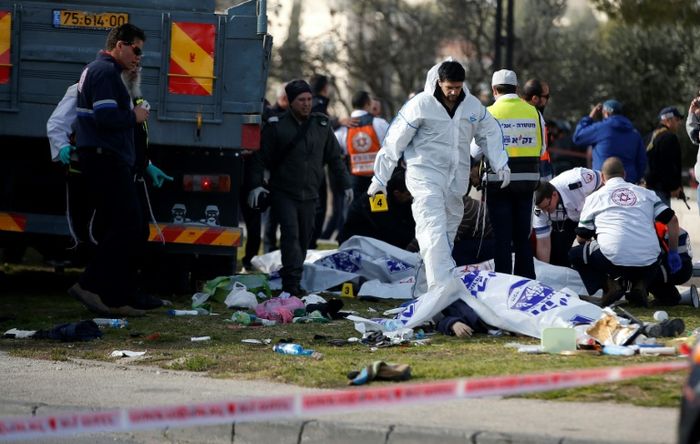 Public Security Minister Gilad Erdan meanwhile announced that police would not return the attacker's remains to his family in order to prevent an honorary funeral that would encourage further attacks. He said Israeli security forces would bury the body in a location inaccessible to his family and "supporters."
Israel's Magen David Adom emergency medical service said paramedics on scene were provided treatment to 13 wounded, including one severely injured, and the rest moderately or lightly injured.
The injured were transferred to areas hospitals.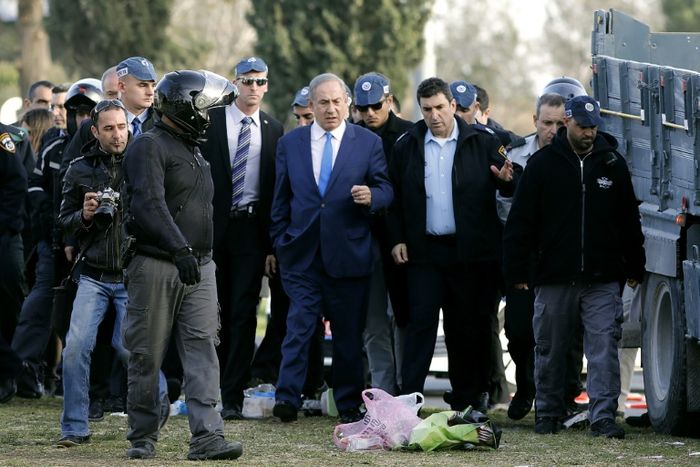 Jerusalem's Hadassah Ein Kerem Hospital said that it was treating five in the trauma ward, one in critical condition, three in moderate condition and one who is lightly inured.
"The world is receiving a clear answer to their peace conference from the Palestinians," Deputy Foreign Minister Tzipi Hotovely said after the attack. "The international community must demand an end to terror."
Culture Minister Miri Regev also responded to the suspected attack, which occurred during a period of relative calm in the city.
"For the renewal of Islamic terror there is no difference between a resident of east Jerusalem, Ramallah or Tehran," she said.
Lawmaker Bezalel Smotrich of the pro-settler Jewish Home party said: "The serious terror attack that occurred today is the kind of attack that there is absolutely no chance to prevent without destroying the hope that drives it.
"As long as there is motivation for attacks, there will be a truck driver who decides on the spot and without early warning to murder Jews. The motivation can be destroyed by destroying the hope on which everything rests. I repeat: the only way to eradicate terrorism is to destroy the hope that motivates it, to implement Israeli sovereignty over the entirety of Judea and Samaria and make it clear that no Palestinian state will be established."