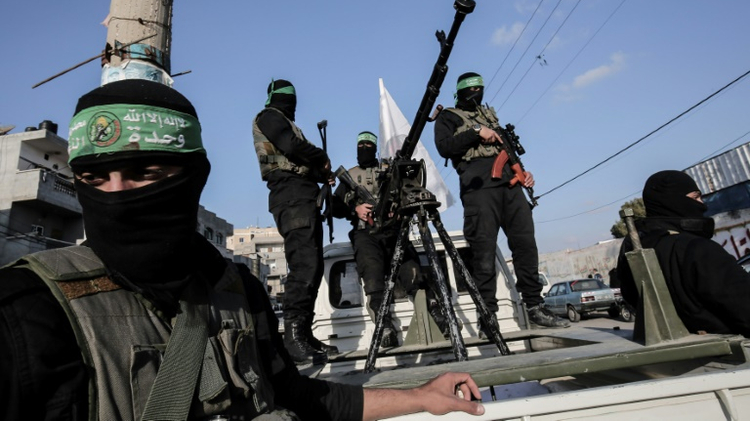 ☆
Hamas praises 'heroic' terror attack on Israelis
credits/photos : Said Khatib (AFP/File)
Members of the Ezzedine al-Qassam Brigades, the military wing of the Palestinian Islamist movement Hamas, take part in a rally marking the 29th anniversary of the creation of the movement on December 16, 2016
Suspect's sister says 'God chose him for this martyrdom'
Palestinian terror group Hamas on Sunday praised a deadly truck attack on Israelis and urged others to follow in the assailant's footsteps, Israeli media outlets report.
A Hamas statement called the truck-ramming that killed at least four soldiers and wounded over a dozen others "heroic", adding that "these attacks will continue and any attempt to stop the intifada is doomed to failure."
The group, which rules the Gaza Strip with an iron fist, handed out candy in the enclave that is home to some 1.8 million Palestinians, as it often does to celebrate attacks on Israelis.
A message posted on Hamas's Twitter page called the attack a "natural response to the crimes of the Israeli occupation."
Hamas also called for the holding of mass rallies following evening prayers on Sunday.
While praising the attack, the group did not claim the attacker worked on its behalf.
Israeli Prime Minister Prime Minister Benjamin Netanyahu said after visiting the scene of the attack that the suspected assailant, who was shot dead while attacking, was "by all indications" a supporter of the Islamic State group.
The Palestinian suspect's sister reportedly told the Quds News Network that "God chose him for this martyrdom. Thank God. We are patient and we thank God for this… it is the most beautiful martyrdom."