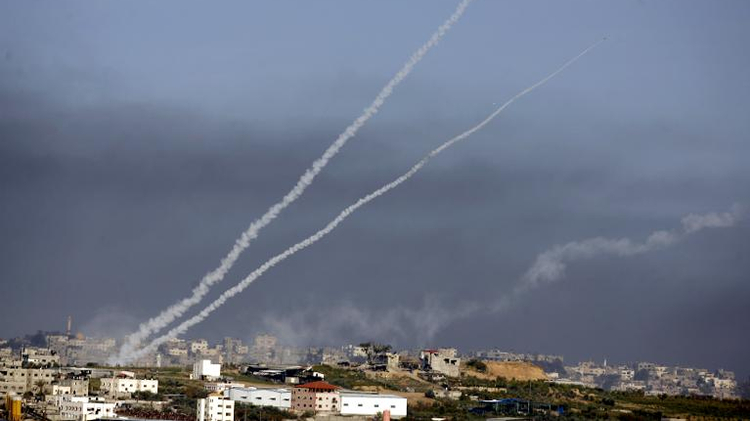 ☆
Palestinian UNHRC delegate: Hamas rockets 'crime against humanity'
credits/photos : Patrick Baz (AFP/File)
Smoke trails rise up into the sky after rockets were launched toward southern Israel from the town of Beit Hanun in the northern Gaza Strip, on January 4, 2009
Palestinian rep: Unlike IDF, 'we never warn anyone about where these missiles are about to fall'
The Palestinian delegate to the UN Human Rights Council (UNHRC) Ibrahim Khreisheh stated last week during an interview on Palestine Today that Hamas is committing war crimes by firing rockets into Israel, Ynet News reported.
Khreisheh's declaration came in response to a question about the PLO's demand to appeal to the International Criminal Court at the Hague (ICC) to investigate Israel's military conduct during the current operation "Protective Edge" in Gaza.
Khreisheh responded saying first that, as he is not running for any political offices, he can be honest. "The missiles that are now being launched against Israel, each and every missile constitutes a crime against humanity, whether it hits or missed, because it is directed at civilian targets...Therefore, targeting civilians, be it one civilian or a thousand, is considered a crime against humanity."
Khreisheh explained that while the Palestinians therefore have a weak case arguing for Israeli crimes against humanity, they would be able to prosecute Israel for war crimes, including settling occupied land and forcibly transferring occupied populations.
He went on, asking viewers to "note that many of our people in Gaza appeared on TV and said that the Israeli army warned them to evacuate their homes before bombardment. In such a case, if someone is killed, the law considers it a mistake rather than intentional killing, because (the Israelis) followed the legal procedures."
"As for the missiles launched from our side, we never warn anyone about where these missiles are about to fall, or about the operation we carry out."
He concluded saying that Palestinians won't get very far in trying to prosecute Israel in the ICC given Hamas' conduct.
"Therefore, people should know more before they talk emotionally about appealing to the ICC," he concluded.
'International protection'
Palestinian president Mahmoud Abbas is to ask the United Nations to put the state of Palestine under "international protection" in light of the worsening violence in the Gaza Strip, the PLO said Sunday.
"President Abbas will present a letter to the UN Special Coordinator for the Middle East Peace Process, Robert Serry, addressed to UN Secretary General Ban Ki-moon, to officially put the State of Palestine under the UN international protection system and to form a legal committee for immediate follow-up," it said in a statement.
Abbas also wants a commission of inquiry into Israel's massive air bombardment of the Gaza Strip in an attempt to halt militant rocket fire into Israel.
"Palestinian president Mahmoud Abbas is undertaking several steps and measures to deal with the horrific situation in Gaza," senior Palestine Liberation Organisation member Hanan Ashrawi said in a statement after a meeting of the PLO executive
Foreign ministers meet in Vienna
US Secretary of State John Kerry will meet on Sunday with the foreign ministers of the UK, France and Germany on the sidelines of the nuclear talks with Iran in Vienna to discuss the ongoing fighting between Israel and Hamas in the Gaza Strip.
The meeting reflects a growing flurry of diplomacy aimed at pressuring both sides to cease fire.
Special envoy of the Middle East Quartet, Tony Blair, met over the weekend with Israeli Prime Minister Benjamin Netanyahu and discussed the possibility of a truce. Following the meeting, Blair met with Egyptian President Abdel-Fattah al-Sissi in Cairo.
Senior Israeli officials and Western diplomats said that the U.S., Egypt, Qatar, Turkey, the UN and others are holding talks concerning a cease-fire, but efforts are still in the early stages.
The UN Security Council on Saturday called for a cease-fire between Palestinians and Israelis.
British Foreign Secretary William Hague on Saturday also called for a cease-fire but added that "Israel has the right to defend itself" against rockets from Gaza.
He spoke with both Mahmoud Abbas, the Palestinian President, and Israeli Foreign Minister Avigdor Lieberman by phone.
On Tuesday, German Foreign Minister Frank-Walter Steinmeier is expected to visit Israel and discuss the possibility of a cease-fire with Netanyahu and Palestinian President Mahmoud Abbas.
Italian Foreign Minister Federica Mogherini, whose name has been touted as a potential successor to EU foreign policy chief Catherine Ashton, is also due in Israel on Tuesday.
Egyptian president Abdel Fattah al-Sisi said his country was in touch with the Israelis and the Palestinians in an attempt to put an end to the violent conflict. Sissi also warned of further escalation that could result in the death of many civilians in Gaza, but Israeli analysts believe Egypt supports the Israeli erosion of Hamas' military capabilities since it views the organization as closely tied to the Muslim Brotherhood, which has been designated a terror organization.
Reflecting the growing international pressure, Prime Minister Benjamin Netanyahu said at a news conference Friday evening that "no amount of international pressure will prevent us from acting with full force against a terror organization calling for our destruction."
Protests in various European and Arab capitals were also mounting. A protest outside Israel's consular offices in downtown Boston turned ugly Friday when 100 anti-Israel demonstrators "swarmed" some dozen Israel supporters, The Times of Israel reported.
Surrounded by pro-Palestinian activists chanting "Jesus killers" and "drop dead," several pro-Israel students claimed they were "physically assaulted" by the protesters at the rally's close.
Whereas the pro-Israel supporters were mainly university students, the anti-Israel crowd was largely female, and older, accompanied by a dozen children holding signs and helping chant about "Israeli apartheid" and "war crimes."