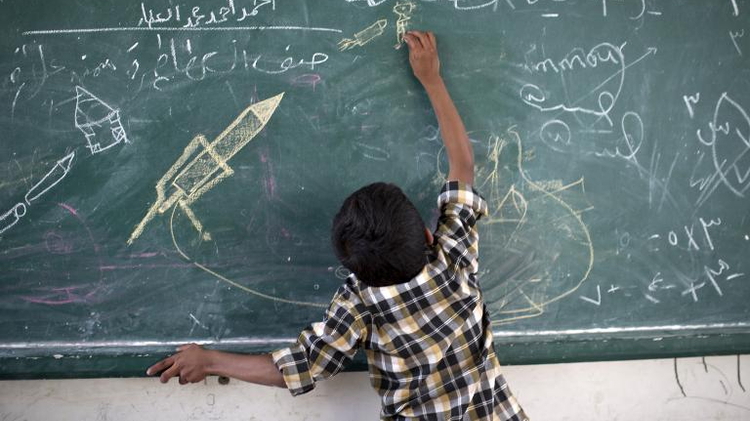 ☆
Gazans flee homes as Israel steps up campaign
credits/photos : Mahmud Hams (AFP)
A Palestinian boy draws on a chalk board at a UN school after evacuating his home near the border in Gaza City on July 13, 2014
Netanyahu: 'We are hitting Hamas with growing force'
Israel toughened its campaign against Gaza Sunday, warning Palestinians in the north to flee after marines mounted a ground attack, and diplomatic efforts to halt the bloodshed intensified.
As world powers prepared to meet over the spiralling bloodshed, the Palestinian death toll from a punishing Israeli air campaign hit 166, following the bloodiest day yet in which 56 people were killed.
Despite increasing calls for a ceasefire, Israeli Prime Minister Benjamin Netanyahu said there was no end in sight, with the military warning residents of northern Gaza to flee by 0900 GMT.
"We are hitting Hamas with growing force," Netanyahu told the weekly cabinet meeting.
"We do not know when this operation will end."
So far, no Israelis have been killed, although militants in Gaza have pounded the south and centre of the country with more than 630 rockets since the fighting began on July 8 in the biggest confrontation in and around the enclave since 2012.
Overnight, Israeli naval commandos raided the northern Gaza Strip on a mission to destroy longer-range rockets which have sent thousands fleeing for cover in cities as far away as Tel Aviv, Jerusalem and Hadera in the north.
Radio reports spoke of a fierce gun battle with Hamas militants in the Sudaniya district.
Shortly afterwards, the army said it had warned residents of the north to "immediately" leave their homes ahead of a major assault which would focus on the town of Beit Lahiya.
Scenes of terror
Even before the warning, thousands could be seen fleeing for their lives, by car, foot and horse-drawn cart, an AFP correspondent reported.
"It was the middle of the night, and I gathered the children, they were so afraid," said Samari al-Atar, breaking down in tears as she described how her family had left everything and fled barefoot with shooting all around.
Many sought refuge in schools run by the UN agency for Palestinian refugees.
"UNRWA now has eight schools sheltering about 4,000 displaced Gazans," the agency's head of operations Robert Turner told reporters.
"More are arriving by the minute. They are mostly fleeing areas in the north," he said. A spokesman said UNRWA facilities had the capacity to shelter some 35,000 people.
So far neither side has shown any interest in talk of a ceasefire, with top diplomats from Britain, France, Germany and the United States due to discuss truce efforts in Vienna later on Sunday.
French Defence Minister Jean-Yves Le Drian called for "an immediate ceasefire" to avoid any further escalation, and Pope Francis made an appeal for both prayer and diplomacy to halt the bloodshed in and around Gaza.
"I urge all interested parties and all in local and international political office not to spare in prayer and efforts to cease all hostilities," he said.
The German and Italian foreign ministers were both poised to head to the region to join truce efforts, their offices said.
As the fighting showed no sign of let-up, thousands rallied across Asia to denounce the Israeli offensive and show support for Palestinians.
Around 3,000 gathered in Sydney while hundreds more gathered in Hong Kong, New Delhi and Jakarta holding up banners condemning Israel and in support of the Palestinians.
In Gaza, three people were killed, including a 14-year-old boy, in separate strikes on northern and central Gaza, and a man died of injuries sustained in an earlier raid, taking the death toll to 166, medics said.
More than 1,000 people have been wounded.
And a man was killed by militants in the southern city of Rafah, in what appeared to be the first execution of a suspected collaborator with Israel, witnesses told AFP.
Fire from Lebanon
Late on Saturday, two rockets fired from Lebanon struck northern Israel, hitting open ground near the coastal town of Nahariya, triggering fears that the conflict in Gaza could spread.
It was the second instance of fire from Lebanon in as many days with military officials blaming it on a small Palestinian armed group.
Netanyahu has vowed that "no international pressure" will halt the campaign against Hamas, with army radio saying Israel wanted a much more comprehensive truce than that which halted the fighting in 2012.
"The Israeli government at this stage is not answering ceasefire efforts because we want to know first that we have taken away Hamas's desire to do this again in another year or six months," Finance Minister Yair Lapid told army radio.
"When that happens, then we can talk."
Israel has warned that preparations are under way for a possible ground incursion, with Foreign Minister Avigdor Lieberman saying a decision was expected on Sunday.
The security cabinet was expected to meet later in the day, officials said.
The latest conflict kicked off on June 12 when three Israeli teenagers were kidnapped and murdered, triggering a major military crackdown on Hamas in the West Bank and an escalation of rocket fire from Gaza.
The brutal revenge killing of a Palestinian teenager by Jewish extremists on July 2 added further fuel to the fire, which deteriorated into all-out conflict on July 8.
[AFP]