☆
Israel: Pipeline company admits 5 million tons of oil spilled in south
Company originally claimed 'only' 1-1.5 million tons spilled; forecast rains may worsen environmental damage
Company originally claimed 'only' 1-1.5 million tons spilled; forecast rains may worsen environmental damage
The Eilat-Ashkelon Pipeline Company admitted Sunday that the amount of oil that spilled from the pipeline last week was 5 million tons, much more than the 1-1.5 millions tons claimed earlier.
Israel's Environment Protective Ministry said in response they were skeptic of the Eilat-Ahskelon Pipeline Company's earlier claims.
Meanwhile, rains forecast for Tuesday are a growing cause for concern following the oil spill, environmental experts say.
"If the rain causes floods, that will take the oil east and south, and deep into the soil. It will spread out and it will be more difficult to deal with," Elli Groner, the academic director of the Arava Institute for Environmental Studies, was quoted by the Jerusalem Post as saying.
Clean-up crews have already managed to move 8,500 tons of contaminated soil into the Nimra landfill since the leak last Wednesday, described as one of the worst pollution events in the history of Israel.
"If you take a satellite photo, you see that the oil is following the trees," Groner said. "Wherever there are trees, there is oil around them and they will be poisoned by the oil, and hundreds of them will die within a few months."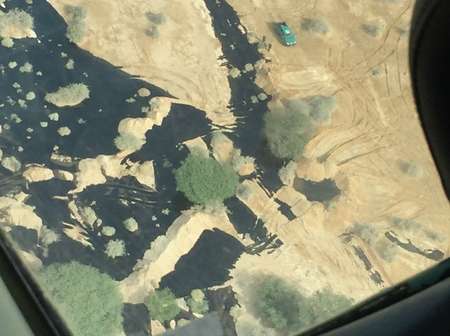 Israel's Environmental Protection Ministry said the clean-up will cause landscape damage and could take many months.
"We may have to plow some of the land and the landscape will probably be damaged as several tractors will have to enter a delicate nature preserve," the ministry said.
More than 80 people were treated for respiratory problems in Israel and Jordan following a crude oil spill, in which thousands of cubic meters of oil flooded a desert nature reserve in southern Israel overnight, causing one of the country's worst environmental disasters.
Following the breach of the pipeline, 80 people were hospitalized in Jordan and residents near the border with Israel were ordered to remain indoors.
Evrona is known for its deer population and douma palms.
The Environmental Protection Agency said that the Green Police has opened an investigation into the incident.