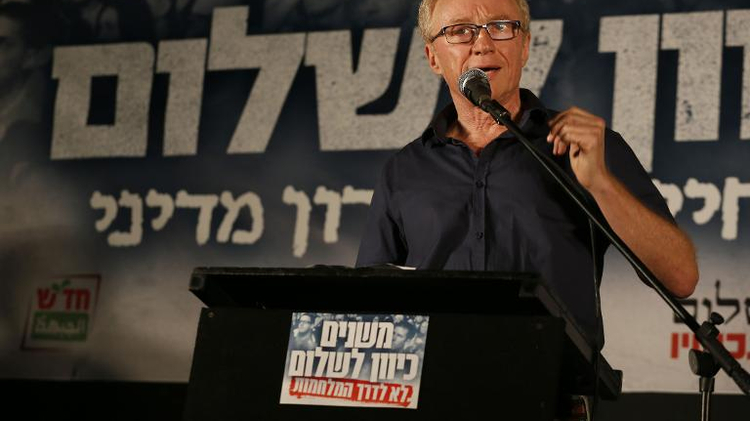 ☆
Israeli artists clash with government on freedom of expression
credits/photos : Gali Tibbon (AFP)
L'écrivain israélien David Grossman lors d'une manifestation à Tel-Aviv pour appeler à négocier avec l'Autorité palestinienne de Mahmoud Abbas le 16 août 2014
Dozens sign petition, hundreds attend emergency meeting to discuss statements by culture, education ministers
Hundreds of Israeli artists attended a stormy emergency meeting on Sunday to discuss what they view as government attempts to curtail freedom of expression.
Dozens of artists signed a petition circulated at the event, titled "The Black List": "We, female and male artists – filmmakers, writers, actors, musicians, choreographers and dancers, directors, scriptwriters, producers and cultural figures – are protesting the undemocratic steps taken in recent weeks by the Culture and Education ministries against artists and cultural figures whose work or views don't match the spirit of these ministries. We would like to tell you that we will continue facing reality, expressing our opinion and obeying our conscience, even if you claim a price from us for it."
The petition's signatories – including actors Gila Almagor, Moni Moshonov, Ran Danker and Keren Mor and dancer and choreographer Ohad Naharin – added in the document that they were not afraid to voice their opinions.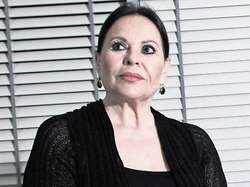 The unusual gathering was prompted by last week's pronouncements by Culture Minister Miri Regev and Education Minister Naftali Bennett threatening the funding for two Arab-Israeli theaters and favoring more patriotism on the past of Israeli artists. Regev herself clashed with Israeli Arab actor Norman Issa over his refusal to perform in the West Bankand her threat to cut state funding to his Arab-Jewish children's theater.
"Imagine your world is quiet — without books, without music, without poems, a world where no one disturbs you and no one stops the nation from celebrating the 30 [Knesset] seats which are followed by a herd of straw and cud-munching cattle," theater producer and actor Oded Kotler said to the crowd of artists, referencing Regev's Likud party, headed by Prime Minister Benjamin Netanyahu, which won 30 Knesset seats in the last election. Kotler later apologized for his controversial comment.
During a meeting last week with representatives of Israeli cultural institutions, Regev stated that she had personal control over which arts, culture and sports groups receive government funding, adding that her party had popular backing with 30 Knesset seats. "The government doesn't have to support culture. I can decide where the money goes. The artists will not dictate to me."
"I think Minister Regev entered into a collision course from her first day," celebrated Israeli writer David Grossman said Sunday. "I don't think she's going to change her views. Ultimately she represents the views of many for whom Judaism and Israelism are the center of their being, and they want to stay there, and then there are those like me, for whom Judaism and Israelism are a central part of their lives, but they also want to encounter the world… The danger is that if we keep in that direction and out isolation in the world will grow, Israel will become no more than a militant, fundamentalist sect, enclosed on the margins of history…"
Curbing artistic freedom and expression, he said, "poses a deep danger to the principle of democracy and an unwillingness to accept that democracy sometimes hurts."
An example of his point was provided in a heated debate that erupted at Sunday's event when Ortal Tamam, the niece of an Israeli soldier murdered by a terrorist in 1984, took the stage and spoke about "A Parallel Time," a play inspired by the life of her uncle's killer. A week ago, Bennett decided to stop state funding for the play.
She said the play humanized the killer and was a sharp blow for her family. Her words were met by heckling, and Tamam eventually left the stage in tears.
Actor Moshe Ivgy partly supported Tamam's view. "If there is something that endangers the state and hurts the principles of democracy, it shouldn't be funded by the state, I agree with you," he said during the meeting. "But that's where it ends. The state should not be and it is not its place to be, a commissar, and should not intervene in culture, on a fundamental level."
In another painful storm brewing on the culture front, Regev announced on Sunday that she was reevaluating support for next month's Jerusalem International Film Festival after discovering that it included a documentary showing the "softer" side of Yigal Amir, the assassin of Prime Minister Yitzhak Rabin.
Noah Rothman, Rabin's granddaughter, reportedly said of the film: "Anyone who holds democracy dear should be afraid of this. It's a cynical use of freedom of speech."