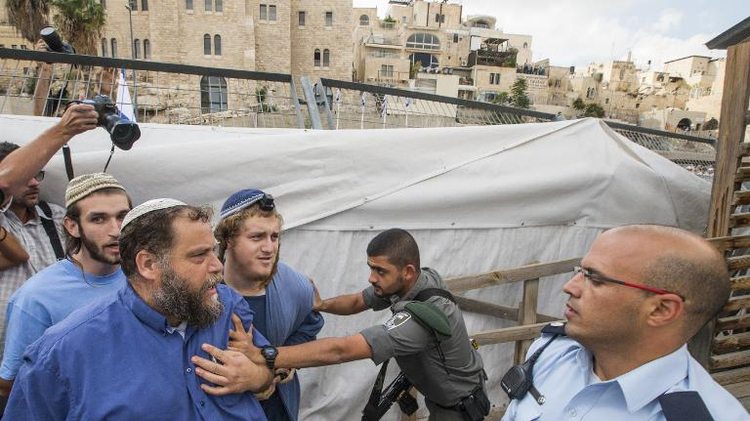 ☆
Leader of Israeli anti-assimilation group says he supports burning churches
credits/photos : Jack Guez (AFP/Archives)
Un garde-frontière repousse des membres de Lehava, dont le chef Bentzi Gopstein (2e à g), qui tentent d'accéder à l'esplanade des Mosquées, temporairement fermée au public, le 30 octobre 2014
Extremist Lehava leader Rabbi Bentzi Gopstein cites Jewish scholar Maimonides during debate on idol worship
The leader of a radical Israeli anti-assimilation organization has said that he would support the burning of churches, citing rabbinic authorities to back up his comments. 
During a panel debate Tuesday on idol worship, Rabbi Bentzi Gopstein from the extremist Lehava group said that he was willing to spend 50 years in prison for carrying out such an act. 
Lehava (in Hebrew "flame") is also the Hebrew acronym for "Preventing Assimilation in the Holy Land."
Gopstein made the comments during a debate at a Jewish learning center in Jerusalem about whether Jews are commanded to eliminate idol worship, as the Jewish scholar Maimonides states.
When Gopstein was asked during the debate whether he is in favor of burning Christian churches in Israel, he said that he was. 
In recordings obtained by the Kikar Hashabbat haredi news website, Gopstein is heard saying, "Are you against Maimonides or in favor of him?" 
"Did Maimonides rule that you need to destroy or not? Idolatry needs to be destroyed," Gopstein said.
After the recording was published, the rabbi said that his comments were made in the context of theoretical Jewish law. 
"In a closed panel in Wolfson Yeshiva a debate arose on Maimonides's opinion on Christianity. During the debate, I said that according to Maimonides one needs to destroy idolatry," he said.
"I emphasized several times that I was not calling to take operative steps, but rather that this was Maimonides's stance, and that this [step] would be incumbent on the government and not individuals," Gopstein said. 
"I understand that there is a campaign against the right wing and [they] are trying to trap us for every word, but I would recommend that first an investigation be opened up into preachers in mosques or [MK Ahmed] Tibi or [MK Haneen] Zoabi."
Despite its extremist views, Gopstein's Lehava organization is still able operate in Israel after the Shin Bet security service announced earlier this week that there was not sufficient evidence to outlaw it and declare it a "terrorist organization."
Tensions have been running high in Israel since last week's two terrorist attacks at the Jerusalem Gay Pride Parade and the Palestinian village of Duma in the West Bank: An ultra-Orthodox man stabbed marchers at the Pride Parade, killing one and injuring five. Hours later, Jewish extremists carried out an arson attack that killed a Palestinian baby, critically injuring his parents and brother.
Lehava activists follow the teachings of the late Meir Kahane, a virulently anti-Arab rabbi whose Kach party was banned in Israel, and its members fight against intermarriage.
Kahane was murdered in New York in 1990, but his ideology still inspires loyalty among Jewish extremists.
Kach itself was designated a terrorist organization in Israel in 1994; it is also outlawed in the United States and the European Union. Jewish Defense League, a US-based organization founded by Kahane, which preceded Kach by several years, was designated a terrorist organization by the FBI in 2001.
Last January Israeli Defense Minister Moshe Ya'alon instructed the legal department of his cabinet to consider designating Lehava a "terrorist organization" following widespread arrests of over a dozen members of Lehava on suspicion of incitement to violence.
In July, three Jewish suspects were arrested in connection with the arson of a world famous 5th century church on the shores of the Sea of Galilee.
"Several Jewish suspects have been arrested for the burning of the church and the Nazareth court has decided to extend their detention for the purposes of the investigation," police spokeswoman Luba Samri said in a statement of the arrests.
The fire gutted part of the church at the traditional site of what Christianity reveres as Jesus's miracle of the feeding of the 5,000. Two people were slightly injured.
A verse from a Hebrew prayer denouncing the worship of "false gods" was spray-painted in red on a church wall, suggesting Jewish zealots were responsible.
Investigation showed the blaze broke out in several places inside the limestone Church of the Multiplication of the Loaves and Fishes, evidence that it was started deliberately.