Israeli scientists make breakthrough in HIV research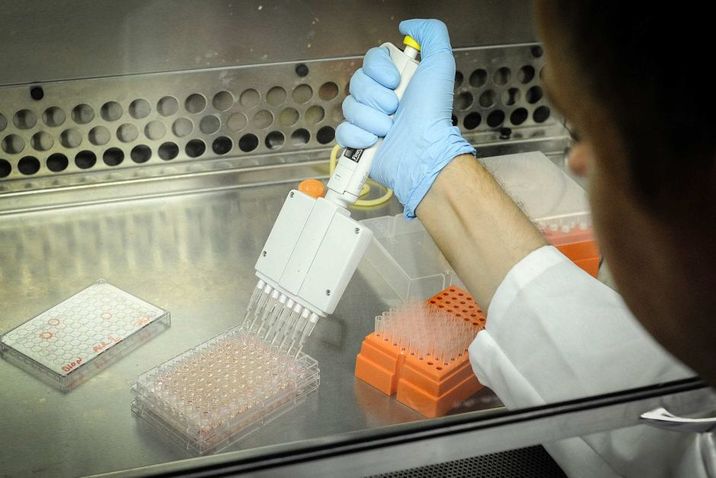 medical researchers
AFP
Researchers at Ben-Gurion University of the Negev discover similarities between virus and leukemia
Israeli scientists have made a breakthrough in researching HIV, the virus that leads to AIDS, Ben-Gurion University of the Negev announced Tuesday.
Dr. Ran Taube of the department of microbiology, immunology and genetics at the university in the southern Israeli city of Beersheba, said his team discovered similarities between HIV and leukemia.
The discovery will lead to a "revolutionary diagnosis and the key to the clinical solution that will prevent infection with HIV and will destroy the deadly virus," Dr. Taube was
In collaboration with Dr. Uri Rubio of Soroka University Medical Center, Taube said the research aims to stamp out AIDS and slow the progress of a rare mixed-lineage leukemia (MLL) that mostly occurs in children.
Although AIDS can be treated with anti-retroviral therapy medications, medical scientists have struggled to prevent the spread of the HIV virus, which continues to infect an every-growing number of individuals each year, Taube noted. One of the reasons for this is that no vaccine has been developed against HIV which could prevent future infection.
Taube added that the latent viral particles in HIV cannot be treated by anti-retrovirals, since they do not have an immune response and can continue to spread and infect new cells.
"Like what happens in the AIDS virus when it enters the chronic state, similar mechanisms of reproduction control the expression of genes responsibility for the development of hematopoetic stem cells," Taube was quoted by the Jerusalem Post as saying. "The study is based on the supposition that harming the mechanisms of expression and reproduction of the viral genome is responsible for the accumulation of the latent virus and the chronic condition of the disease."
The researchers said they hope to uncover ways to activate the "silenced" virus, while simultaneously activating anti-viral suppressors that would then proceed to destroy the virus entirely.
You need to be logged in in order to post comments. Sign up or log in
It still unbelievable to believe that HERPES still has cure, me and my Husband has been suffering from HIV AIDS for so many years and we have search for help but we were unable to find one, i was told that there was no cure for HERPES but somehow i believe that there was someone out that has a cure, so that was how i went in search for s solution on how to get cured of HERPES and surprisingly i saw comment on daily news papers where lady testify of how Dr OMO herbal medicine cure her, i was so confused because first i thought that there was no cure but now seeing that someone outside has a cure, i thoughts of it as a scam but something told me to give it a try and when i did he reply me and assure me that me and my husband will be cured once we receive his herbal medicine, that was how he prepared it, and send my herbal medication that me and my husband used that cure me and my husband in Just 2 weeks and we were tested HERPES. All Thanks to the powerful Dr OMO for his help in my life. contact him on his email OBORSPELLHOME@GMAIL.COM whatssup him on +2348105813057
Good morning to you all I want to drop a testimony about a power full man his name is Dr OBOR the man that cure me and my wife from HIV I was tested HIV positive 3 year age and my wife was already affected by me will decide to look for treatment for the HIV,I really need cure to the virus god help me with man called Dr, OBOR the man that cure any disease I see blog post about his good work I pick his email and number I call him to confirm if what I saw is true the man explain everything about it to me and also tell me what do and the thing I will bring before the cure can take place well he list out the thingsI needed for my cure I do according to what he said and he told me that he will call me back after if he done with cure and he did after everything I went for hiv test I was negative and my wife too what a miracle! thanks doctor, you can reach him now on his email: FREEHIVCUREHOME@GMAIL.COM HIS WHATSUP NUMBER:+2348105813057 Thanks..