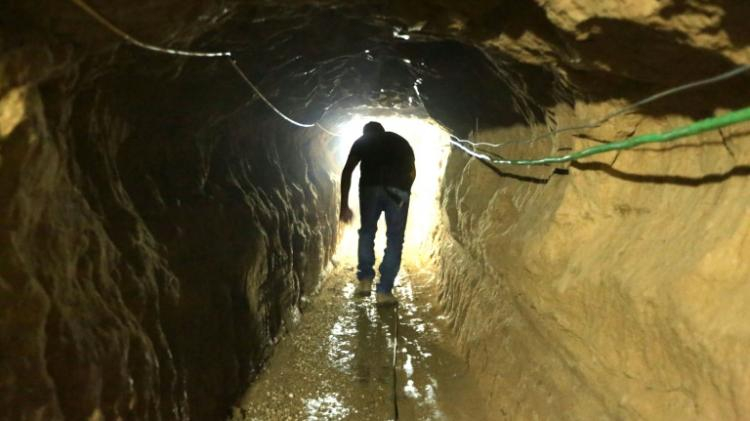 ☆
Minister says Egypt flooded Hamas Gaza tunnels at Israel's request
credits/photos : PATRICK BAZ (AFP/ARCHIVES)
Au moins un membre du Hamas a été tué dans l'effondrement d'un tunnel dans le sud de la bande de Gaza le 2 février 2016
Israel's energy minister Steinitz says security ties between Israel and Egypt 'better then ever'
Israel's energy minister said Saturday that the Egyptian military had flooded several smuggling tunnels beneath the Gaza Strip's southern border at Israel's request, according to Israeli news website Ynet. 
"Some Hamas tunnels were flooded, to a certain extent at our request," minister Yuval Steinitz said, according to Ynet. 
The energy minister said that Egyptian President Abdel-Fattah el-Sissi had ordered the destruction of numerous tunnels built by the Islamist Hamas group.
According to Ynet, Steinitz explained during an event in the southern city of Beersheba that security coordination between Israel and Egypt was "better than ever."
At least three separate tunnel collapses took place in the Gaza Strip this week, killing several Hamas operatives, according to Palestinian reports.
Hamas on Wednesday buried two fighters killed in a tunnel collapse, as concern grows in Israel over the rebuilding of underground passageways that could be used for attacks.
The Islamist movement that runs the Gaza Strip said the two men killed in Tuesday night's tunnel collapse belonged to its armed wing, the Ezzedine al-Qassam Brigades.
Hundreds of men, many armed and wearing balaclavas, took part in the funeral.
Ismail Haniya, Hamas's leader in Gaza, called the two men "martyrs" and praised "those who work silently underground for us to live in dignity on earth."
A tunnel collapse caused by bad weather on January 26 killed seven Al-Qassam militants.
Israeli concerns increased on Friday after Haniya, in comments at the seven men's funeral, highlighted the growth of new tunnels.
But Mahmoud al-Zahar, a senior Hamas official, on Wednesday toned down the rhetoric with a statement on the Hamas website denying comments attributed to him that the tunnels had already reached into Israeli territory.
"The resistance tunnels are defensive tunnels for the protection of our people in the face of any Israeli aggression," he said.
Israel destroyed a large number of tunnels in the 2014 Gaza war, the third conflict to hit the Palestinian enclave since 2008.
Israeli Prime Minister Benjamin Netanyahu has warned that "if we are attacked from tunnels from the Gaza Strip, we will take very strong action against Hamas."