☆
Netanyahu: Those who visit terrorists' families should not sit in the Knesset
The News - 02/07/2016
Israeli PM accuses Palestinian MKs of 'building walls of hatred'
Prime Minister Benjamin Netanyahu on Sunday morning confirmed that he had asked new Attorney General Avichai Mandelblit to examine legislation changes that would allow for lawmakers who visit families of Palestinian terrorists to be barred from sitting in the Knesset.
Speaking at the weekly cabinet meeting, Netanyahu said he believed that "many citizens do not feel that Knesset members represent them" and accused the MKs involved in the affair of "building walls of hatred."
The storm first erupted last week when three members of the Joint List — MKs Haneen Zoabi, Jamal Zahalka and Basel Ghattas — went to visit the families of Palestinian attackers whose bodies have not been released by Israeli authorities.
Among others, they met with the family of Baha Alian from the East Jerusalem neighborhood of Jabel Mukaber. Alian killed three Israelis in a terror attack on a bus in the Jerusalem neighborhood of Armon Hanetziv on October 13. Over a dozen other passengers were also seriously wounded in the attack.
Netanyahu added that he was trying to "imagine what would happen in the British Parliament or US Congress if lawmakers stood in silent memory of murderers who killed American or British citizens."
He further said that he would submit an appeal to the Knesset Ethics Committee as well as to Knesset Speaker Yuli Edelstein, and that he expected "every member of the opposition to support these proposals as well."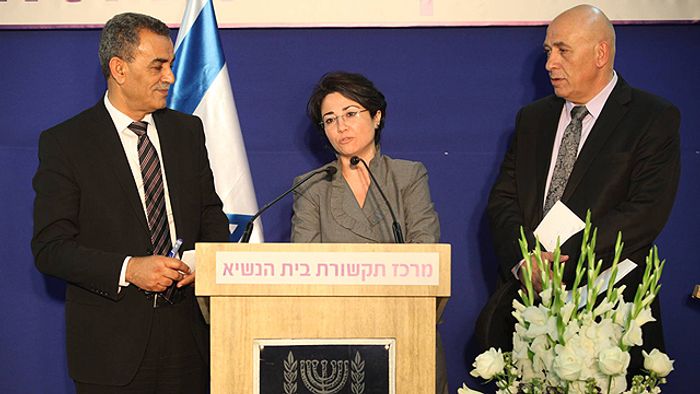 The Joint List in response accused Netanyahu of incitement and distortion.
The prime minister also addressed an arson attack on a synagogue in the West Bank outpost of Givat Sorek, Gush Etzion on Saturday.
"We will do everything to find those responsible and bring them to justice," Netanyahu said. "I expect everyone in the country and in the world, who denounce every desecration, graffiti or fire in mosques, to voice the same level of condemnation for this horrendous action.
"We are in the midst of a tough battle between those who seek peace and coexistence, like us, and those who want war and blood," Netanyahu continued.
In a Facebook post in response to the arson Netanyahu wrote that the synagogue, which was dedicated to the three Israeli teenagers who were kidnapped and murdered in the West Bank in summer 2014, was set alight due to "incessant Palestinian incitement."
Netanyahu also raised the issue of employment of illegal workers, saying that the government was due to vote on increasing penalties for employers who hire staff without the appropriate permits.
"We have to understand that a significant portion of recent terror attacks inside Israel were perpetrated by illegal inhabitants," Netanyahu said.
"We have to make those who employ them, drive them and house them bear the consequences. This is an important step against this phenomenon and in the future we will take more steps," he added.
Tal Shalev is i24news' diplomatic correspondent.