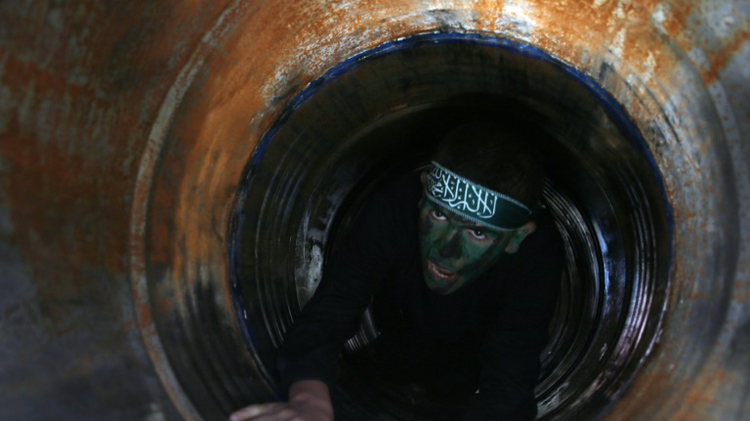 ☆
Israel spent billion NIS in effort to destroy Gaza tunnels: report
credits/photos : Said Khatib (AFP/File)
A Palestinian youth crawls in a tunnel during a graduation ceremony for a training camp run by the Hamas movement on January 29, 2015 in Khan Yunis, in the southern Gaza Strip
Hamas resumed construction of clandestine tunnels leading into Israel after their demolition in last Gaza war
Israel has spent an estimated quarter of a billion dollars in an effort to detect and demolish the network of clandestine tunnels leading into the country from the Hamas-controlled Gaza Strip, local media reported Friday.
During the last Gaza war alone, Israeli forces discovered and destroyed 32 tunnels. Some 2,140 Palestinians and 73 Israelis were killed in the 50 day-long bout of fighting with Hamas militants in the summer of 2014.
According to Channel 2 News, over the last decade Israel has spent over one billion NIS to combat the threat of tunnels reaching into its territory. This includes a new tunnel detection system along the Gaza Strip border, comprised of a series of high-tech sensors that will provide data, deciphered by advanced algorithms, allowing security forces to accurately detect and locate tunnel-digging operations.
"It's working, but it still isn't 100 percent," a security official involved in the project told Reuters last year.
Since the end of Operation Protective Edge on August 26, 2014 with an open-ended truce agreement, the militant group has claimed resumed the construction of underground tunnels and that there will be "no security" in Israel as long as there is none in Gaza.
Israel responded by investing hundreds of millions of shekels to implement lessons learned from the war: mock tunnels have been built in IDF training camps and soldiers are being given training on operating machinery to destroy the tunnels.

The Egyptian army has destroyed some 1,600 tunnels under its border with Gaza, used primarily to smuggle goods into the Strip, since it ousted Islamist president Mohamed Morsi two years ago.
See also - Hamas militant killed in tunnel collapse in southern Gaza Strip