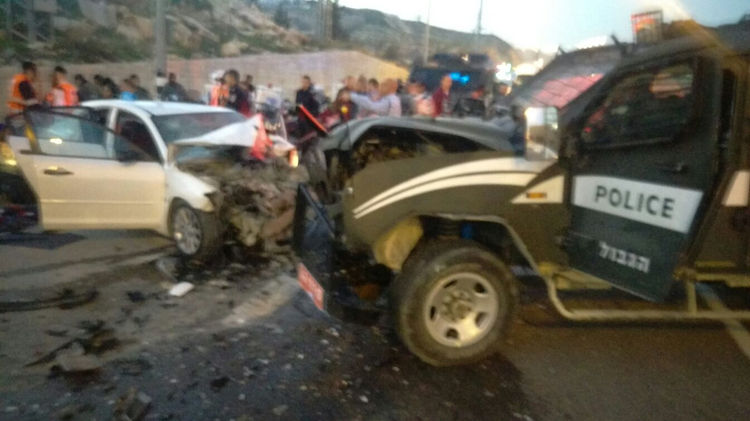 ☆
Four Israeli border police injured in suspected car ramming in West Bank
A car containing three Palestinians injured three Israeli border police in a suspected ramming attack near the West Bank city of Ma'ale Adumim
Earlier, a female Palestinian assailant attempts to stab Israeli soldier, is shot dead in Hebron
Four border police were slightly injured on Saturday in a suspected car ramming attack outside a military base near Ma'ale Adumim, east of Jerusalem, in the West Bank.
Magen David Adom emergency medical services were dispatched to the scene, and said that three Israeli soaldiers, aged 21, 29, and 43, and a fourth border police officer were transported to hospital with light injuries.
Israeli police report that that during routine operations in the area, officers identified two Palestinians crossing the security fence and approaching a vehicle waiting on the Israeli side.
A border police team was dispatched to the scene and approached the vehicle, which had been caught in a traffic jam, on foot.
The suspects attempted to flee the scene, hitting a civilian car before attempting to ram their vehicle into the police officers.
The officers say they then opened fire on the vehicle, injuring three of its Palestinian occupants -- two lightly and one moderately.
The suspects continued driving after shots had been fired, and slammed into the vehicle of a second police team blocking the road.
The suspects were arrested and taken into police custody.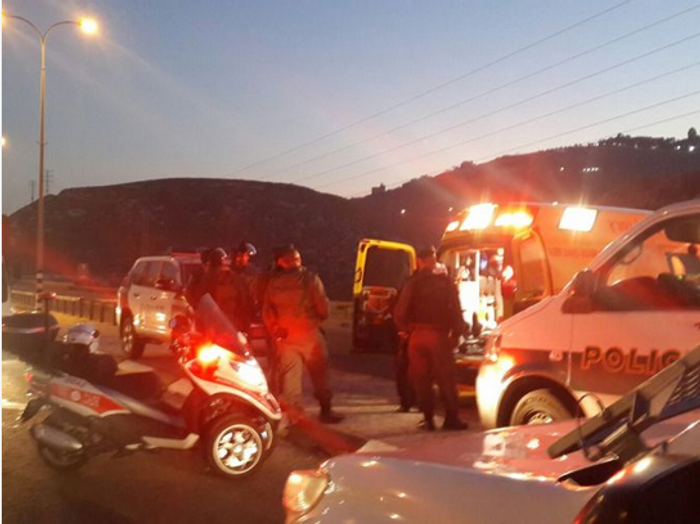 - Hebron: Palestinian assailant attempts to stab Israeli soldier, is shot dead -
Israeli forces shot dead a Palestinian woman as she attempted to stab a soldier in the flashpoint West Bank city of Hebron on Saturday, the army said in a statement.
"An assailant drew a knife and attempted to stab a soldier," the army said. "Responding to the attack, forces fired at the perpetrator, resulting in her death."
The IDF said that there were no injuries as a result of the attack, however Israeli media reported that one Israeli was lightly injured.
Palestinian hospital officials named her as 17-year-old Kalzar al-Uweiwi.
Palestinian security sources said Israel passed her body to Hebron hospital so she could be buried by her family.
Since the current round of bloodshed erupted at the beginning of October, 167 Palestinians have been killed by Israeli forces. Most were carrying out attacks but others died during clashes and demonstrations.
The violence has claimed the lives of over 30 Israelis, as well as an American, a Sudanese and an Eritrean.
The army statement said that Saturday's incident occurred near Hebron's shared religious site known to Jews as the Cave of the Patriarchs and to Muslims as the Ibrahimi Mosque, a site of frequent friction between the sides.
Hebron is a regular flashpoint in the Israeli-Palestinian conflict, with several hundred Jewish settlers living in the heart of the city under heavy military guard among around 200,000 Palestinians.
A large number of the Palestinian knife, gun and car-ramming attacks that began on October 1 have occurred in and around the city.
Staff with agencies