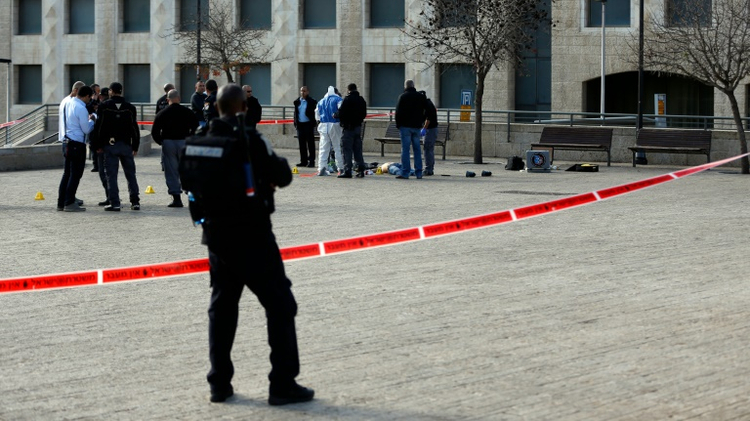 ☆
228 attacks and attempted attacks in Israel, West Bank since October: Shin Bet
credits/photos : Ahmad Gharabli (AFP/File)
Israeli forensic police stand next to the body of a Palestinian assailant who was shot dead following a reported attack on December 26, 2015, near Jerusalem's Old City
Seventy-one percent of attackers are aged between 16 and 25, while 22 of them (10 percent) are 16 or younger
Israel's Shin Bet Security Agency on Monday released a report on the attacks and attempted attacks that have occurred across the country and the West Bank between October 1, 2015 and February 10, 2016.
According to the Shin Bet, 228 attacks and attempted attacks took place during this period with a large majority of attacks (74 percent) occurring in the West Bank.
Thirty-seven attacks were carried out in Jerusalem.
The report said that 80 percent of the terrorists and attackers came from the West Bank, mostly the area of ​​Hebron and Ramallah. Seventy-one percent of the attackers are aged between 16 and 25, while 22 of them (10 percent) are 16-years-old or younger.
The vast majority of the perpetrators, 89 percent, were men. The number of female attackers totaled 24.
On October 1, 2015, two Israelis were killed in an attack against their vehicle near the town of Nablus, on the road leading from the settlement of Itamar to Elon Moreh in the West Bank, marking the beginning of the new wave of violence.
Today, an attempted attack was foiled at Jerusalem's Damascus gate entrance to the Old City. A 15-year-old girl was arrested and found to be in possession of two knives.
Earlier in the day, hundreds of Palestinian youths clashed with Israeli soldiers in the refugee camp of Al-Amari near Ramallah, in the West Bank, throwing stones, bottles and firebombs.
The Palestinian Health Ministry said that 28 Palestinians were injured, with one suffering a gunshot to the head, and separately at least one Israeli soldier was wounded.
Since October 1, 172 Palestinians, 26 Israelis, as well as an American, a Sudanese and an Eritrean have been killed in a wave of violence, according to an AFP count.
Most of the Palestinians were killed while carrying out attacks but others died during clashes and demonstrations.
(Staff with AFP)
Read more: Teen girl with two knives arrested at Jerusalem's Damascus gate