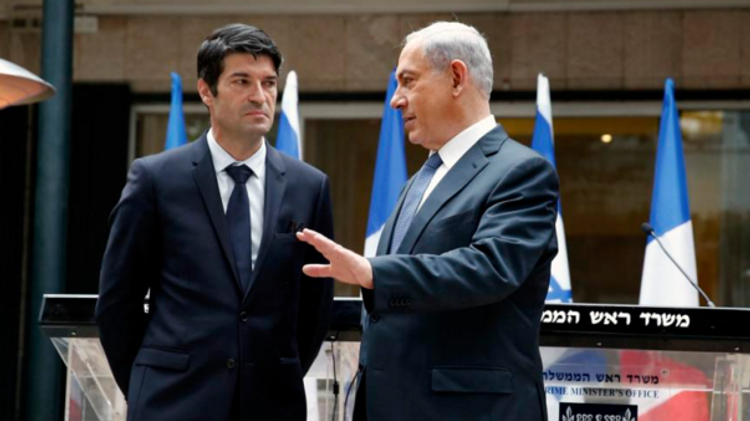 ☆
French envoy presents peace initiative to Israel during Jerusalem meeting
credits/photos : AFP
Israeli Prime minister Benjamin Netanyahu (R) talks with French Ambassador to Israel Patrick Maisonnave after presenting his condolences following the deadly attack on French satirical newspaper Charlie Hebdo on January 9, 2015 in Jerusalem (AFP Photo/Tho
'Israel supports direct negotiations with the Palestinians,' Israel's foreign ministry head says
The French Ambassador to Israel Patrick Maisonnave arrived at the Israeli Foreign Ministry in Jerusalem on Tuesday to discuss France's initiative to convene an international summit in an attempt to restart the Israeli-Palestinian peace process.
Maisonnave met with the head of the foreign ministry's diplomatic office, Alon Ushpiz, who told the ambassador that "Israel supports direct negotiations with the Palestinians and opposes any attempt to determine its results in advance."
"This principle has been part of the peace process from its beginning and was also the core principle guiding the negotiations with Jordan and Egypt."
Ushpiz said that this approach is the total opposite of the statement from Palestinian Foreign Minister Riad al-Malki who said yesterday that Palestinians will never go back to direct talks with Israel."
According to Israeli daily Haaretz, in recent weeks Paris has started consultations on the plan with other states in the world.
The French initiative to convene an international peace summit was presented on January 29 in a speech by French Foreign Minister Laurent Fabius at the foreign ministry in Paris. 
A senior Israeli official said recently that Jerusalem hasn't rejected altogether the French initiative to promote the two-state solution but rather the ultimatum regarding the recognition of a Palestinian state.
Fabius said two weeks ago that France will recognize the Palestinian state if no progress is made on the two-state solution.
Fabius also said that "France will engage in the coming weeks in the preparation of an international conference bringing together the parties and their main partners, American, European, Arab, notably to preserve and make happen the solution of two state solution." 
The overall Israeli reaction was sharply negative.
According to Haaretz, the French have presented their initiative to the Palestinians, and it was met with a very positive response. "We want to give the details to the Israelis, too, and see how they react," a French diplomat said.
Read More:
Israel not ruling out French initiative to resume peace talks: official