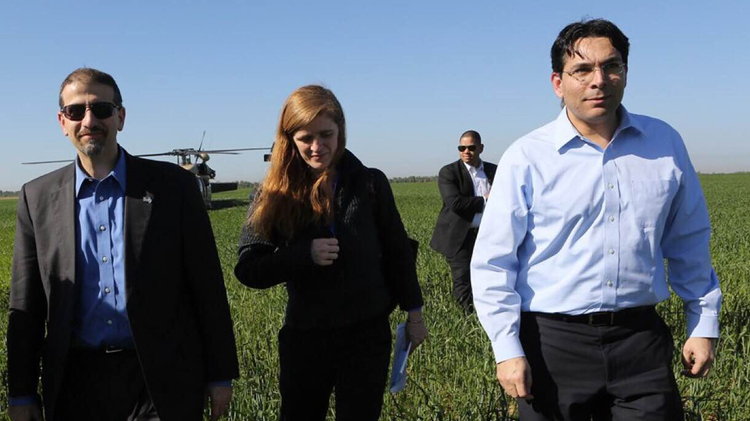 ☆
Helicopter tour gives American UN envoy perspective on Israel security
credits/photos : i24news
American ambassador to the UN Samantha Power (C) with Israeli UN Ambassador Danny Danon (R) and US ambassador to Israel Daniel Shapiro (L)
Power briefed by senior IDF officers on security challenges, met with Gaza border-community representitives
American ambassador to the United Nations Samantha Power got perspective on Israel's security situation during a helicopter tour of Israel with Israel's UN ambassador Danny Danon.
The two were briefed by senior Israeli Defense Forces officers on the security challenges facing the Jewish State, and were accompanied by US ambassador to Israel Daniel Shapiro.
"It was an honor to accompany ambassador Power as we observed the unique security challenges facing Israel," said ambassador Danon.
"Israel has no greater friend than America and I know that the ambassador is seeing firsthand that the threats we face on each of our borders provided her with an even deeper insight into our security needs," he said.
During their helicopter tour, the ambassadors viewed Israel's narrow width in the Sharon region, and then headed south for an in-depth briefing by security officials on the border with Gaza.
They then met with representitives of the border communities to hear about their daily lives under the threat of rocket fire and terrorist attacks from Gaza.
UN envoy Samantha Power is on a four day visit to the region, expected to end Tuesday, during which she has has met both Israeli and Palestinian leaders.
Power met Netanyahu earlier Monday and said they discussed "steps that could be taken to preserve prospects" for a two-state solution, as well as the conflict in Syria and the threat from the Islamic State group.
Read More:
- Analysis: A powerful charm offensive
- US ambassador to UN visits Israel in push to get peace talks back on track
- Iran deal compliance so far 'strong': US envoy
- Israel's Herzog calls on US to 'change approach' on Israeli-Palestinian conflict