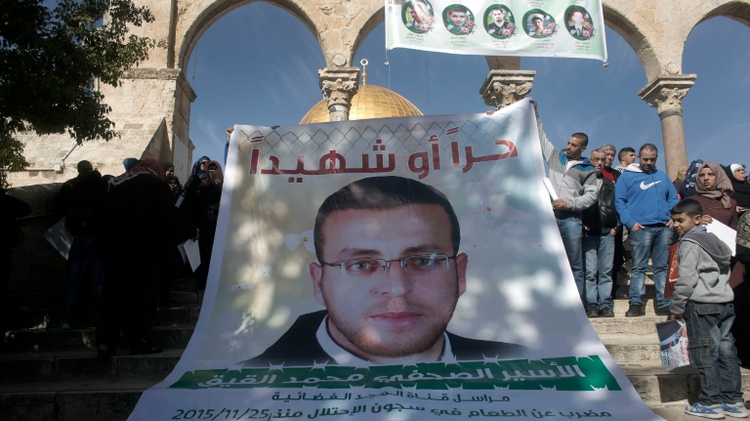 ☆
Israelis, Palestinians in advanced talks to end prisoner's hunger strike
credits/photos : AHMAD GHARABLI (AFP/Archives)
Des Palestiniens manifestent pour la libération du journaliste palestinien Mohammed al-Qiq devant la mosquée Al-Aqsa à Jérusalem le 22 janvier 2016
PA official says agreement outlining Qiq's transfer to a Palestinian hospital likely to be signed by Sunday.
Palestinian and Israeli officials have been in advanced negotiations in a bid to reach a compromise that will lead to the end of a hunger strike by a Palestinian detained in Israel, Ha'aretz reported Saturday.
Mohammed al-Qiq, a 33-year-old journalist, is reported to be close to death 87 days after starting a hunger strike in protest against his internment without trial under Israel's administrative detention laws.
The deal being discussed stipulates that Qiq will be transferred from a hospital in the north of Israel to Al-Makassed hospital in East Jerusalem, where he will end his hunger strike, according to Ha'aretz.
A Palestinian Authority official from the prisoner affairs committee told Ma'an news agency that an agreement outlining Qiq's transfer to a Palestinian hospital is likely to be signed by Sunday.
"The Palestinian government and the PA are making every effort to relocate you to a Palestinian hospital perhaps even by today," Palestinian Authority prime minister Rami Hamdallah told Qiq, during an in-hospital visit with another Palestinian government mminister.
Israel's Supreme Court on Tuesday ruled that Qiq must stay in the Israeli hospital in the northern city of Afula where he is being held, after a failed attempt to break a stalemate.
"The court refused the request of Mohammed al-Qiq and will leave him in the hospital in Afula," his lawyer Jawad Boulos said in a statement.
Qiq has occasionally taken minerals and vitamins but mainly ingests only tap water, doctors who have visited him say.
The court officially suspended the internment order against Qiq on February 4, but refused his demand for transfer to a hospital in the West Bank city of Ramallah, under Palestinian Authority jurisdiction.
On Monday it offered a compromise whereby he would be moved to the Palestinian-run Makassed hospital in Israeli-annexed east Jerusalem.
Afou Agbaria, an Arab Israeli former parliamentarian and physician who visited Qiq in Afula, said he turned down the proposal.
"He refuses to be cared for in Makassed because it is located under Israeli sovereignty and he says he will not be retained in custody," he told AFP.
"He said, 'It's death or freedom, and if Israeli security has something against me, it must bring me to justice, rather than to hold me under administrative detention without trial or charge'."
Palestinian Authority officials are trying to convince Qiq to accept a proposal that would involve an initial treatment period in the east Jerusalem hiospital, followed by his release.
Qiq, a father of two and a correspondent for Saudi Arabia's Almajd TV network, was arrested at his home in Ramallah on November 21.
He has been refusing food since November 25 in protest against the "torture and ill treatment that he was subjected to during interrogation", according to Addameer, a Palestinian rights organisation.
The United Nations has expressed concern about his fate, with the International Committee of the Red Cross describing his condition as critical.
Israel's Shin Bet domestic security service says Qiq was detained for "terror activity" on behalf of the Islamist group Hamas, which controls the Gaza Strip.
Israel's controversial administrative detention law allows the state to hold suspects without trial for periods of six months renewable indefinitely.
On Thursday UN envoy on Israeli-Palestinian peacemaking Nickolay Mladenov briefed the UN Security Council. "I ... call for all persons subject to administrative detention to be either charged or released immediately," he said.
(Staff with agencies)