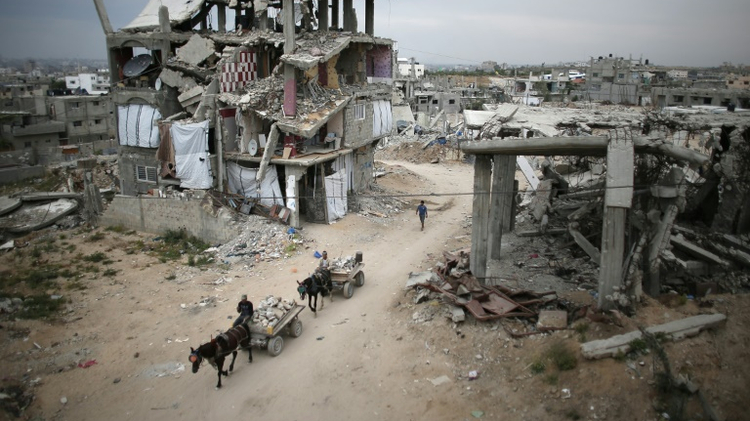 ☆
Israelis living along Gaza border write to UN's Ban urging lifting of blockade
credits/photos : Thomas Coex (AFP/File)
Gaza Strip
'Other Voice' group says ongoing humanitarian crisis in the enclave likely to fuel further violence
A group of Israelis living in communities along the border with the Gaza Strip wrote to the Secretary General of the United Nations Ban Ki-moon, urging him to promote the lifting of Israel's blockade on the coastal enclave to ensure their Palestinian neighbors could lead their lives in "human conditions," local media reported.
According to a report on Mako, the internet portal of Israel's Channel Two News, the letter by the 'Other Voice' group stated they "have, over the years, addressed countless letters and petitions to Israel's Prime Minister Benjamin Netanyahu, as well as other government officials," to no avail. "We stressed that the siege is a ticking bomb for everyone involved, on both sides."
The petition said that the ongoing humanitarian crisis is likely to fuel further violence if not addressed.
Many of Gaza's 1.8 million residents are living in dire conditions after the 50-day war in July-August 2014 that killed 2,200 Palestinians, 73 people on the Israeli side, and destroyed or damaged thousands of homes.
The website of 'Other Voice' describes the group as "a grassroots volunteer initiative comprised of citizens from the communities bordering the Gaza border that knows that our violent reality can and must be altered."
Israel imposed its blockade on Gaza in 2006 after Hamas captured an Israeli soldier, and tightened it a year later when Hamas consolidated its rule, to prevent weapons from being smuggled into the enclave.
It controls the waters around Gaza and residents are not allowed to travel more than six nautical miles from the coast.
Land crossings are also strictly controlled by Israel, apart from the Rafah checkpoint with Egypt.
As the reconstruction of thousands of homes destroyed during the fighting is progressing inadequately, Israel's blockade and a lack of support from international donors have been blamed.
Whereas Israel accuses Hamas of deploying materials delivered into the enclave to build underground tunnels leading into Israel and intended for carrying out terror attacks, rather than to restore residential homes.