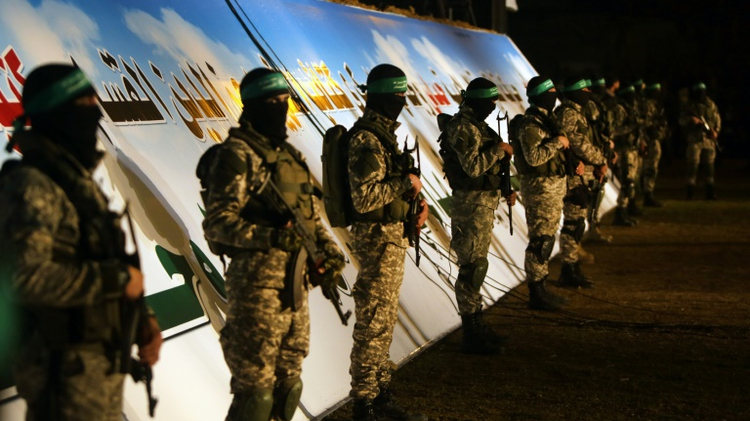 ☆
'Blood of the two children was not spilled in vain,' Hamas warns Israel
credits/photos : Mahmud Hams (AFP/File)
Palestinian members of the Ezzedine al-Qassam Brigades, the armed wing of the Hamas movement, take part in a gathering in Gaza city
Two children died from wounds sustained in Israeli retaliatory air strike
"The two children's blood was not spilled in vain," Hamas' military wing warned Israel on Saturday, following the death of two Gazan children in an overnight airstrike carried out by the Israeli air force in response to earlier rocket fire.
"There is a limit to our patience in light of Israel's crimes," the warning from the Ezzedine al-Qassam Brigades continued.
Yasin Abu Hussa, 10, died in a raid on a base of the group's military wing at Beit Lahiya, in the north of the strip early Saturday morning, Gaza health ministry spokesman Ashraf al-Qudra said. His 6-year-old sister, Isra'a Abu Hussa, died later in the day from wounds also sustained in the strike.
Yassin was buried on Saturday afternoon, when hundreds of mourners attended his funeral, AFP journalists said.
Several rockets fired from the Gaza Strip late on Friday landed in open terrain in southern Israel, causing no damage.
Sirens warning of incoming rocket fire from Gaza sounded in several Israeli communities bordering the coastal enclave.
Saturday evening Israel's Minister of Defense Moshe Ya'alon said that "we will not tolerate attempts to breach the peace in the south of Israel, or attempts to disrupt the lives of residents around Gaza."
"So we responded firmly and harshly  during the night against the assets of Hamas, and we will strike more strongly if these attempts will continue," he added.
This is the third time rockets have been fired from Gaza into Israel in 2016.
None of the various Gaza-based terror groups took immediate responsibility for the attack, but Israel holds Hamas responsible for all such incidents.
Hamas is the Islamist movement that runs Gaza, which has been hit by three wars with Israel since 2008, including the devastating 2014 summer conflict that left more than 100,000 homeless and killed more than 2,200.
(Staff with AFP)