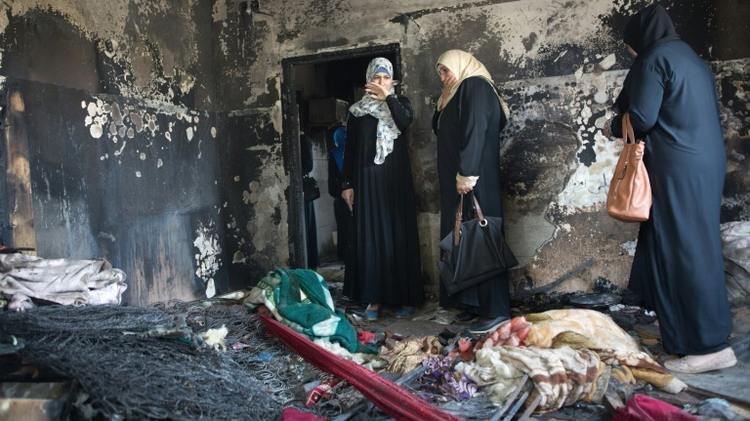 ☆
Author of Jewish terrorism 'handbook' sentenced to two years in jail
credits/photos : Menahem Kahana (AFP/File)
Palestinian women look at the damage to a home in the West Bank village of Duma on August 4, 2015, after it was set on fire by suspected Jewish extremists killing 18-month-old Ali Saad Dawabsha
'Sometimes we're fed up only destroying property... So we want to torch a house and its inhabitants'
Moshe Orbach, a 24-year-old radical right-wing activist, was sentenced to two years' jail by the Rehovot Magistrates' Court for authoring a "handbook" instructing fellow Jewish extremists on how to carry out terror attacks, Walla reports.
Orbach, from Bnei Brak, wrote a document called "Kingdom of Evil," in which he detailed the "necessity" of attacking non-Jewish property and people as well as laying out practical advice to do so.
The document was part of the evidence found during the investigation over the June 18 arson attack at the Church of the Multiplication in northern Israel.
An entire chapter is devoted to torching houses, which the document ranks as the most violent option for a "price tag" attack.
Orbach was charged last month with sedition, incitement to violence and possession of racist materials. The last time an Israeli Jew was charged with sedition was during the 2005 Gaza disengagement, when large numbers of activists organized to try and disrupt the pullout.
In the court ruling against Orbach, Judge Menahem Mizrahi wrote about the "destructive" potential of the document, saying that a meaningful punishment was needed in order to deter Orbach and others from creating similar materials, Walla says.
"The courts will not take lightly actions that have the power to harm the delicate fabric of the population in Israel," Mizrahi added.
The instructions Orbach gave in the book mirror the arson attack that took place in the Palestinian village of Duma in the West Bank last July, when three members of the Dawabshe family were murdered after their house was set on fire.
"Sometimes we're fed up with only destroying property and we want to deliver a blow that will clarify to the accursed that if we could we would…. So we simply want to torch a house and its inhabitants," the document says.
"This is an attempt to murder, considered much more gravely by the Zionists," it adds.
In addition to the two-year prison sentence, Orbach has also received six months' probation, according to Walla.
A recent Shin Bet investigation into Jewish terrorism uncovered a loose network of radical Jewish "hilltop youth" in the West Bank. The group, who dubbed themselves "HaMered" ("The Revolt"), and who were responsible for a number of similar "price tag" attacks both inside the West Bank and in Israel proper, has seen several members arrested over recent months.