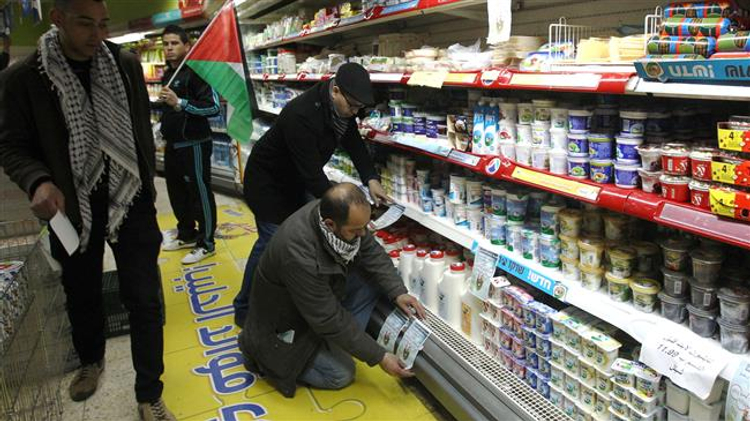 ☆
Palestinian Authority bans products from five Israeli food companies
credits/photos : AFP
Palestinian activists stick leaflets calling for the boycott of Israeli products to a shelf selling Israeli dairy products in a supermarket in the town of Bethlehem i
Companies could lose hundreds of millions a year, but source says move is unlikely to be implemented.
The Palestinian Authority (PA) on Tuesday decided to ban the entry of goods made by five major Israeli food companies. Products made by Tnuva, Strauss, Jafora-Tabor, Soglowek, and Tara Dairy are to be forbidden in areas under the PA's control.
The PA cited a recent Israeli decision to prevent the entry of dairy products made by Palestinian companies to Israel, particularly Jerusalem, according to Israeli financial newspaper Globes. Palestinian Prime Minister Rami Hamdallah branded that decision racist and oppressive, the Ma'an news agency reported.
According to Israeli estimates, the three largest of the companies each sell goods to the PA territories to the tune of hundreds of millions of shekels annually.
Fadi Abu Hilweh, the director of marketing for Hamoda, one of the affected companies, told Ma'an that the companies could lose about NIS 1.2 billion a year.
An Israeli source told financial news oulet The Marker that "this declaration is repeated every six months or year, but it has no effect in practice – both because they do not get by without Israeli products, and because no one really enforces taking products off the shelves in the Palestinian Authority." The Marker further reported that experts believe more damage is caused to the Israeli economy by imitations of popular Israeli food products. The source claimed that this was still not causing substantive economic damage, however.
A 2015 Palestinian Center for Policy and Survey Research poll found that 86 percent of Palestinians in the West Bank and Gaza support boycotting Israeli goods, Ma'an reports.