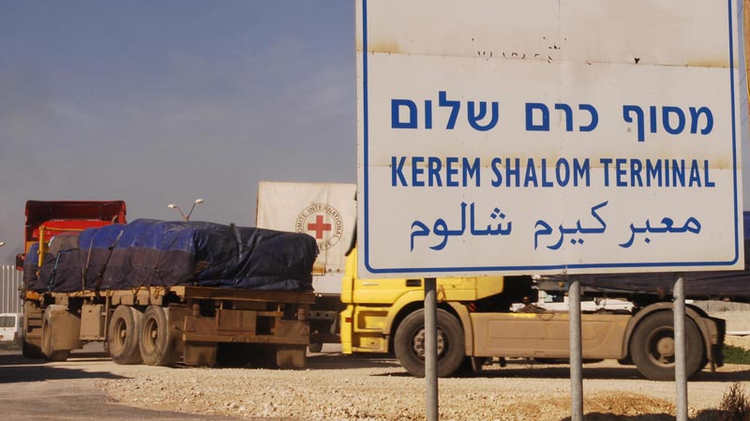 ☆
Ministry of Defense says restricting trucks to Gaza will harm reconstruction
credits/photos : Tsahal.fr
The Kerem Shalom crossing between Israel and the Gaza Strip
Concerns are that decreasing the delivery of goods will increase the prospect of another round of fighting
Israel's Ministry of Defense has taken a side over the recent debate regarding truck traffic on the main road near Israel's border with Gaza, which has seen residents complain about congestion and security risks caused by the stream of deliveries and returns of goods to and from the Strip via the Kerem Shalom crossing, Haaretz reports.
Coming out against Transport Minister Yisrael Katz's decision to restrict the flow of trucks, the defense ministry said that the move will hurt reconstruction in Gaza and exacerbate the already grim humanitarian situation. Goods deliveries would be reduced by over 40 percent, according to a ministry statistic cited in Haaretz.
The concerns over the spiraling conditions in the Gaza Strip have become increasingly heightened in recent months as politicians and analysts cite the despair as heightening the chance of a fresh war breaking out.
The departing director-general of the defense ministry, Dan Harel, has been voicing his concerns about the decision since February.
"Kerem Shalom constitutes the sole axis for transporting goods to Gaza," he warned, adding that a decrease in deliveries would send prices soaring and consequently hurt both the economy and the humanitarian situation.
Katz announced his decision in April, and the restrictions were due to be implemented on May 2. However, an appeal by the Mover's Association delayed the plans, with the Jerusalem District Court postponing its ruling, Haaretz says.
The 950-odd trucks that daily take goods into Gaza via Kerem Shalom are the Strip's main source of food and other produce, and the number of deliveries is about four times what it was prior to 2014's Operation Protective Edge, according to the report.
But complaints from Israeli residents near the border led to Katz ordering that trucks be barred from using the affected roads between 7 and 9am and 3 and 5pm.