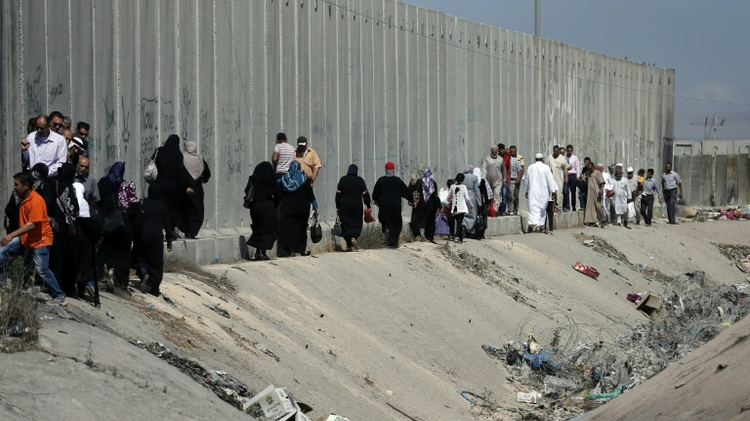 ☆
Israel closes off Palestinian territories for Yom Kippur
credits/photos : THOMAS COEX (AFP/Archives)
Palestinians marching to the Qalandia crossing
On heels of J-lem attack, the closure is for 48 hours rather than just for the duration of the holy day
Israel will close off the border crossings to the West Bank and the Gaza Strip for 48 hours during Yom Kippur (the Day of Atonement) following Sunday's deadly shooting attack in Jerusalem, the military said on Monday.
Exceptions will be made for medical emergencies and humanitarian cases, the Israel Defense Forces' statement said.
Yom Kippur, the holiest day of the Jewish calendar, goes into effect Tuesday afternoon and ends Wednesday evening.
While sealing off the Palestinian territories during Jewish holidays is the customary practice, the imposition of a 48-hour closure reflects the heightened security arrangements triggered by the latest spike in Palestinian violence.
A wave of violence that began in October last year has picked up over the last weeks, with a deadly shooting attack on Sunday killing two and wounding six others near the Ammunition Hill site in Jerusalem.
A gag order has been placed on details of the investigation, including the name of the shooter.
The attack took place next to police headquarters close to Jerusalem's Ammunition Hill light rail stop. According to an initial police investigation, a terrorist driving in a car came to a nearby junction, opened fire and hit passersby.
The suspect then fled the scene, driving in the direction of Sheikh Jarrah neighborhood when a police motorcycle force chased after his vehicle.
When the terrorist saw the officers, he opened fire in their direction. The officers shot back at the suspect and a shot fired by a border police officer who was not part of the motorcycle force killed him.
The IDF mounted overnight raids across the West Bank in cooperation with the Shin Bet security service and border police, uncovering a weapons manufacturing workshop and arresting 16 wanted Palestinians.